Media: Request an Interview
Robert Pemberton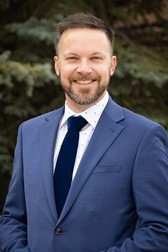 Robert Pemberton is the Director of Communications for Secure World Foundation and a seasoned communications and marketing professional with over two decades of experience developing and executing comprehensive communication strategies for a diverse portfolio of organizations across various industries and locations.
Before joining SWF, Robert served as Director of Marketing for multiple business and non-profit organizations, including a SaaS healthcare management software provider and a behavioral healthcare company that provided personalized services to families and young people across the Southwest. In these roles, Robert successfully developed and executed communication strategies that drove increased brand awareness and revenue growth by understanding the organization's communication needs and translating them into actionable, systematic plans.
Robert's expertise extends to the international contractor industry, where he worked with global teams to develop winning proposals for multi-billion-dollar projects worldwide. His experience working on these teams reinforced the importance of understanding and responding to diverse global issues while responding to them in actionable, easy-to-follow steps. Additionally, Robert developed a knack for simplifying complex, technical design and construction challenges into easily-understood messages and communication media for diverse audiences.
Robert has also made significant contributions to the non-profit sector, supporting various organizations in the arts and mental health sectors. His passion for the arts has given him many opportunities to support professional, community, and youth theaters across the Southwest. After the pandemic forced the closure of these theaters, Robert leveraged his knowledge, skills, and experience to help them re-establish their programs and begin offering classes and productions to their audiences. Robert has also supported various youth-oriented mental health non-profits in Arizona and Colorado, broadening awareness of these critical issues facing local and national communities.
Education
Robert holds a Bachelor of Arts Degree in Journalism and Mass Communication from the Walter Cronkite School of Journalism at Arizona State University and a Master of Business Administration Degree from Grand Canyon University. Additionally, Robert holds professional certifications and experience in Adobe Creative Cloud, data analytics, marketing automation, design, copywriting, and branding.
Last updated on March 22, 2023