Media: Request an Interview
Dr. Peter Martinez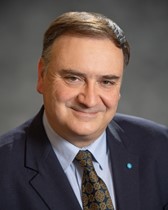 Peter Martinez is the Executive Director of the Secure World Foundation. He has extensive experience in space policy formulation, space regulation and space diplomacy. He also has extensive experience in capacity building in space science and technology and in workforce development.
Prior to joining SWF, Dr Martinez held the post of Professor of Space Studies at the University of Cape Town. Before this he acquired fifteen years of executive level management experience and associated general management skills gained in the research and development environment of the South African Astronomical Observatory, a National Facility under the South African National Research Foundation, where he served as Acting Director for two extended terms and for shorter periods on numerous other occasions. From 2010 – 2015 he was the Chairman of the South African Council for Space Affairs, the national regulatory authority for space activities in South Africa. From February 2011 to June 2018, he served as the Chairman of the United Nations Committee on the Peaceful Uses of Outer Space (UN COPUOS) Scientific and Technical Subcommittee's Working Group on the Long-Term Sustainability of Outer Space Activities. From 2012-2013 he was South Africa's representative on the United Nations Group of Government Experts on transparency and confidence building measures for space activities. He is a member of the International Academy of Astronautics, the International Institute of Space Law and a Fellow of the Royal Astronomical Society. He has authored or co-authored over 200 publications on topics in astronomy, space research, space law and space policy.
Education
Dr. Martinez holds a BSc in Physics and Applied Mathematics, a BSc(Hons) in Materials Engineering, a masters in astronomy with distinction, and a PhD in astronomy, all from the University of Cape Town. He has also attended several executive management courses and the International Space University's Summer Studies Program, where he developed his interest in space policy and law.
Last updated on February 20, 2019