Dr. Beyza Unal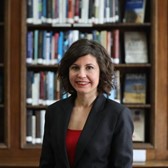 Beyza Unal, Ph.D is the Deputy Director of the International Security Programme at Chatham House. She covers science, technology, security and defence portfolio.
Dr. Unal's research includes the risks posed by emerging technologies to international security and peace. She is well-known for her work in the area of cybersecurity of critical national infrastructure and strategic weapons systems, outer-space security, quantum technologies, and nuclear weapons policy. Dr Unal is examining these technologies from the framework of risks and opportunities, inherent and increasing complexity, responsible innovation, and governance challenges.
Dr. Unal's work provides insights into the complex synergies across different emerging technology applications (e.g. cyber and space); and, her work incorporates in-depth knowledge on challenges to traditional arms control. Apart from her publications, Dr Unal provided oral and written expert input to the 'UK National Submission on Space Threats', submitted under the United Nations General Assembly (UNGA) Resolution (RES 75/36) on reducing space treats through norms, rules, and principles of responsible behaviour. She has also contributed to the United Nations Office for Outer Space Affairs Space Sustainability Initiative's stakeholder engagement process by providing input on how and in which areas the UN can add value to the sustainability of outer space. She is regularly featured in conferences, roundtable meetings, and mainstream media for her work.
Dr. Unal also leads on NATO's security and defence policy at Chatham House. She formerly worked in the Strategic Analysis Branch at NATO Allied Command and Transformation. Some of her core work include an examination of technology-enhanced decision making at NATO, and cyber-security of NATO's space-based strategic systems. Dr Unal also worked as a social media analyst during the 2012 NATO Chicago Summit as part of the Strategic Communication Capability Development.
During her doctoral studies at Old Dominion University, she had the opportunity to teach undergraduate-level courses in international relations. This experience helped her to synthesize and explain technical issues in a simplified manner to reflect the needs of the audience. She transcribed interviews on Turkish political history and served as an international election observer during the 2010 Iraqi parliamentary elections, during her master's degree.
Dr. Unal has been given various fellowships for her achievements - most notably she is a William J Fulbright Alumni. She has also received funding from the US Department of Energy to participate in workshops in Brookhaven National Laboratory, the James Martin Centre for Nonproliferation Studies, and Sandia National Laboratory.
Last updated on December 18, 2021