SWF Contributes to Discussions on Space Safety and STM at 12th IAASS Conference in Osaka
Wednesday, May 31, 2023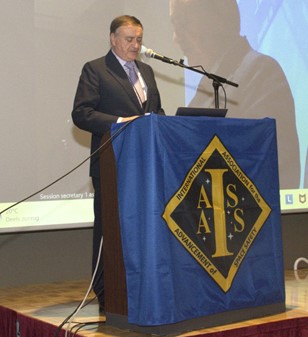 Dr. Peter Martinez delivers a keynote at the 2023 IAASS. Photo courtesy of IAASS
SWF Executive Director Dr. Peter Martinez and Director of Program Planning Dr. Brian Weeden participated in and contributed to the 12th International Association for the Advancement of Space Safety (IAASS) Conference, entitled "Making Space Travel Safer", which was held in Osaka, Japan, May 22-24. On the first day of the event, Dr. Martinez gave a keynote speech discussing the current multilateral dialogue on space threats and norms of behavior, and why supporting a moratorium on destructive anti-satellite testing was closely linked to space safety. He called on the IAASS and their members to add their support to the movement and encouraged more countries to make formal pledges not to conduct destructive anti-satellite tests.
Also on the first day, Dr. Martinez and Dr. Weeden hosted a session on "Leveraging Private Sector Best Practices for Space Traffic Management", which was organized by SWF as part of the overall conference. The session began with a series of short presentations from the Coalition for Space Safety, OneWeb, and the European Space Agency providing overviews of a sampling of existing sets of industry best practices or standards. The presentations were followed by a panel that discussed how to move from the various sets of best practices to a more coherent set of global space traffic management "rules". The panelists expressed optimism that the community was on the right path and that we were already starting to see a good amount of harmony among the various existing initiatives. The panelists cautioned trying to force a global standard from the top-down, at least at this point. Dr. Weeden noted that this was the first of several discussions SWF plans to hold on this topic over the coming months as part of their overall work on space traffic management.
SWF's Dr. Martinez receiving the Loftus Award from Paul Wilde, President of the IAASS
During the conference gala dinner on the evening of the second day, Dr. Martinez received the Joseph P. Loftus Space Sustainability Award, which is awarded annually to the individual, or to a team, which has made outstanding contributions in the field of space sustainability. The award is named after Joseph (Joe) P. Loftus (1930-2005) who was the early proponent of orbital debris research, gained an international reputation in that field and was known as the godfather of the NASA Orbital Debris Program Office. 
Throughout the three days of the conference, Dr. Weeden also co-chaired several technical papers sessions on space traffic management and orbital debris.
Last updated on June 2, 2023