SWF Co-Sponsors Workshop on Preventing Collisions in Space
Tuesday, May 10, 2022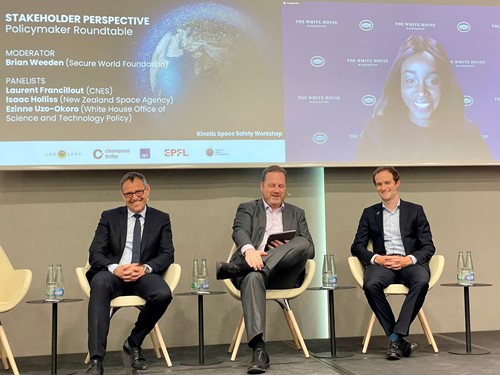 SWF's Brian Weeden (middle) with Laurent Francillout (CNES, left), Isaac Holliss (NZSA, right), and Ezinne Uzo-Okoro (OSTP, on screen)
SWF co-sponsored the 2022 Kinetic Space Safety Workshop, which took place in Lausanne, Switzerland, May 4-5, 2022. Other sponsors included Leolabs, ClearSpace, AXA XL, and EPFL. The workshop brought together international technical experts and satellite operators to discuss specific solutions and pragmatic actions to enhance collisional space safety in low Earth orbit (LEO). Over the course of two days, participants examined the current state-of-the-art in spacecraft impact tolerance, collision avoidance, debris prevention and debris remediation, and what additional steps needed to be taken to prevent collisions and increase safety in LEO. 
SWF Director of Program Planning Dr. Brian Weeden moderated two panel sessions that set the stage for the workshop. The first provided a range of stakeholder perspectives from investors, satellite operators, and think tanks on why preventing collisions in LEO had broad socioeconomic benefits beyond just those to the satellite operators themselves. The second panel featured policymakers from France, New Zealand, and the United States to talk about what they are currently doing about orbital debris and collisions in space, and what questions they needed help answering to help make future policy decisions. 
Following the workshop, the organizers plan to publish a white paper summarizing the findings of the workshop and recommendations for both further work and policy implementation. More information on the agenda, panels, and results can be found here.
Last updated on May 10, 2022