SWF Contributes to the 57th Session of the Scientific and Technical Subcommittee of UNCOPUOS
Wednesday, February 12, 2020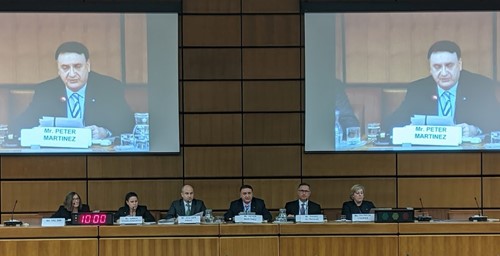 SWF's Executive Director Dr. Peter Martinez and Director of Program Planning Dr. Brian Weeden attended and participated in the 57th session of the Scientific and Technical Subcommittee (STSC) of the United Nations Committee on the Peaceful Uses of Outer Space (UN COPUOS) from February 3-7, 2020, at the United Nations in Vienna, Austria. UN COPUOS is the primary multilateral body for discussing issues related to the peaceful uses of outer space, including space sustainability, space cooperation, and use of space for benefits on Earth. 
The main item of discussion at this session of STSC was the creation of a new Working Group to follow on from the success of the Working Group on the Long-Term Sustainability of Space Activities, which reached consensus on a set of 21 guidelines for space sustainability in 2019. 
On Wednesday, February 5, Dr. Martinez moderated a panel discussion on the implementation of the 21 LTS guidelines that was organized  by SWF. The panel featured speakers from the New Zealand Ministry of Business, Innovation & Employment; Department of State, United States of America; the European Space Agency; the Space Safety Consortium; and SpaceX who talked about their on-going efforts to implement the guidelines and some of the remaining challenges that still need to be addressed by the international space community. The full list of speakers can be found here.
Also on Wednesday, Dr. Weeden gave a technical presentation with an update on the work of the Consortium for Execution of Rendezvous and Servicing Operations (CONFERS), which he serves as Executive Director of under a contract with the Defense Advanced Research Projects Agency (DARPA). 
During the session, SWF also announced the publication of a Spanish-language translation of the Handbook for New Actors in Space, which was developed in cooperation with the Agencia Espacial Mexicana (AEM). More information about the translation and a link to download it can be found here.
Last updated on February 12, 2020