SWF Highlights Implementation of Sustainability Guidelines and Commercial Satellite Servicing Standards at UN
Monday, February 18, 2019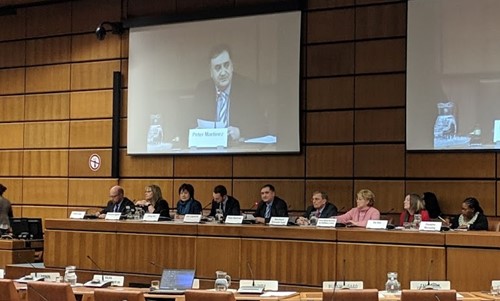 Dr. Peter Martinez (middle) moderates a panel discussion on implementation of the LTS guidelines
SWF Executive Director Dr. Peter Martinez and Director of Program Planning Dr.Brian Weeden represented SWF at the 56th session of the Scientific and Technical Subcommittee (STSC) of the United Nations Committee on the Peaceful Uses of Outer Space (UN COPUOS), which was held in Vienna, Austria, from February 11--22, 2019. The annual STSC meeting brings together delegations from 92 countries and 24 permanent observer organizations to discuss international space activities and challenges. SWF is one of the permanent observers and our staff were present and participated in the first week of STSC.
During this year's session, SWF partnered with the governments of Austria, Brazil, and South Africa to co-sponsor a panel discussion on implementation of the twenty-one long-term sustainability (LTS) guidelines that UNCOPUOS reached consensus on in 2018. The panel was moderated by Dr. Martinez and included speakers from the governments of Brazil, Canada, China, France, Germany, Mexico, New Zealand, and South Africa. These countries represented a broad spectrum of technical and regulatory space capabilities and experience. Panelists discussed plans, experiences and challenges of implementing the LTS guidelines from their national perspective. Not surprisingly, the most advanced space-faring nations reported that they had already been implementing a number of the guidelines, while emerging space nations reported that the guidelines were very valuable to them in the development of their national regulatory frameworks for space activities. A common strand that emerged from several delegates' interventions was the importance of "future proofing" national legislation by making it agile enough to adapt to the rapidly changing circumstances in the space arena.
Dr. Weeden gave a technical presentation in his role as Executive Director of the Consortium for Execution of Rendezvous and Servicing Operations (CONFERS) about the Consortium's work over the last year to begin developing best practices and technical standards for commercial rendezvous and proximity operations (RPO) and on-orbit satellite servicing (OOS). Dr. Weeden made note of the recent publication of the first CONFERS Recommended Design and Operating Practices and gave a preview of the Consortium's plan of work for 2019.
Dr. Weeden also gave an annual update on SWF activities between June 2018 and February 2019 in support of the aims of STSC, including ensuring the long-term sustainability of outer space activities, fostering the development of sound space policy and law, and enhancing the use of space technology and international cooperation in support of human and environmental security on Earth.
Last updated on March 6, 2019