SWF Contributes to GEO-XII Plenary & Mexico City Ministerial Summit, Highlights Spectrum Management Issues
Wednesday, November 18, 2015
In its role as a participating organization of the Group on Earth Observations (GEO), SWF had an active presence in the GEO-XII Plenary & Mexico City Ministerial Summit celebrated November 11 – 13 in Mexico. Participating in the weeklong side events, planning meetings, plenary and ministerial, SWF engaged with representatives from the international GEO community, including new members and participating organizations, data providers and users. SWF also contributed to the planning effort ahead of GEO Week; Dr. Michael Simpson, SWF executive director, served on the GEO Ministerial Working Group, whose tasks included drafting the Mexico City Declaration, unanimously approved by the GEO Ministers on November 13.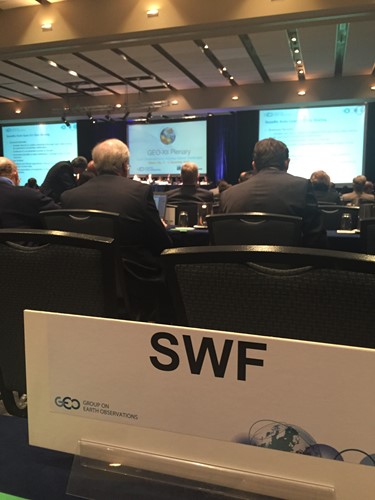 On November 10, 2015, SWF held a side event entitled "Broadcasting GEOSS: Key Issues in Spectrum Management and Earth Observations." The event brought together a panel of international government and industry experts to raise awareness of the risks facing the frequency bands used for meteorological purposes, discuss opportunities for improved routine engagement between the relevant stakeholders, particularly at the regional level, and examine ways to communicate the impact of spectrum management decisions on the delivery of critical information services to policymakers. In the context of the 2015 World Radiocommunication Conference (WRC-15) taking place in Geneva, where the international community is making key decisions with respect to the use of the radiofrequency spectrum, the discussion was particularly timely.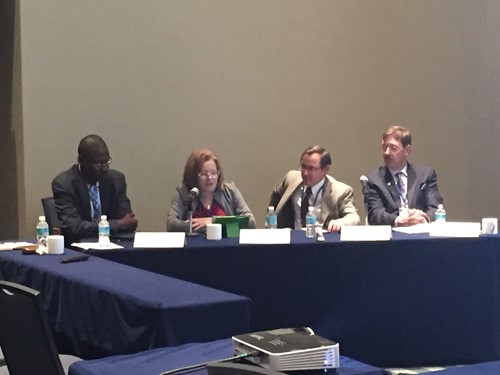 The panel (pictured above) featured Dr. Halilu Ahmad Shaba of the National Space Research and Development Agency (NASRDA) of Nigeria, Ms. Renee Leduc Clarke of Narayan Strategy, Mr. David Hartshorn of the Global VSAT Forum, and Mr. David Lubar of the Vaeros division of The Aerospace Corporation. SWF's Dr. Michael Simpson moderated the discussion.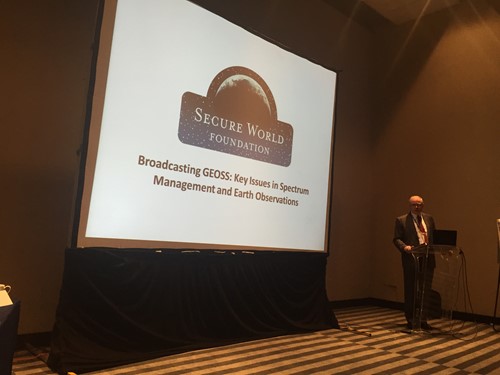 An audio recording of the event, as well as other event materials, are available on the event page.
Last updated on May 31, 2017