Brian Weeden Participates in the World Economic Forum's 2014 Summit on the Global Agenda
Thursday, November 13, 2014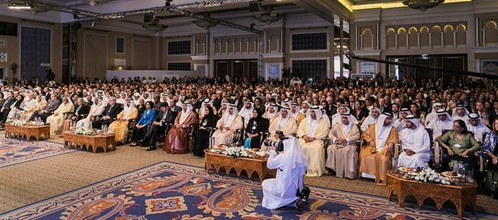 Opening plenary of the 2014 Summit on the Global Agenda. Image credit: World Economic Forum
The World Economic Forum (WEF) held its 7th annual Summit on the Global Agenda in Dubai, United Arab Emirates, from 9-11 November, 2014. The Summit brought together 1,500 experts from around the world to brainstorm solutions to the most pressing global challenges. The top 10 trends for the coming year were highlighted in the 2015 Outlook on the Global Agenda, which was released the Summit and will form the foundation of the discussions at the WEF's Annual Meeting in Davos.
SWF Technical Advisor Brian Weeden participated as a member of the Space Council, one of 80 Global Agenda Councils formed by the WEF across a wide range of issues, risks, and regions. Joining Brian on the Space Council for the 2014-2016 term is SWF Advisory Committee member Dr. Kazuto Suzuki.
Over the course of the 3-day Summit, the Space Council developed a mandate for the next two year term:  promoting sustainable innovation in space activities and services for the benefit of humanity. As part of this mandate, the Space Council plans to focus on the role space capabilities and services play in responding to humanitarian crises and disasters on Earth.
Last updated on November 14, 2014