Brian Weeden Participates in the World Economic Forum's 2013 Summit on the Global Agenda
Friday, November 22, 2013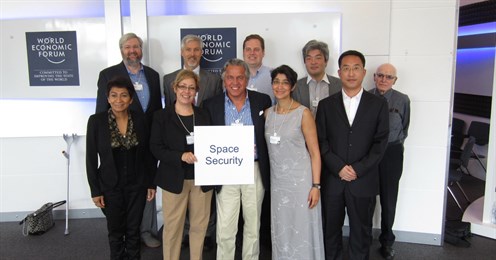 The World Economic Forum (WEF) held the 6th annual Summit on the Global Agenda in Abu Dhabi, United Arab Emirates, from 17-20 November, 2013. The Summit brought together 1,000 experts from around the world to brainstorm solutions to the most pressing global issues.
SWF Technical Advisor Brian Weeden participated as Vice-Chair of the Space Security Council, one of 88 Global Agenda Councils formed by the WEF across a wide range of issues, risks, and regions. Joining Brian on the Space Security Council were SWF Advisory Committee members Dr. Kazuto Suzuki and Ambassador Ciro Arévalo Yepes.
Over the course of the 3-day Summit the Space Security Council finalized preparations for a forthcoming publication on how space capabilities can help address pressing challenges on Earth, which the Space Security Council plans to unveil at Davos in January 2014. The Council also met with other Councils to discuss potential collaboration on projects in the future.
An overview of the Global Agenda Councils and their Outlook report for 2013 can be found here.
Last updated on December 4, 2017