IAC Scholarship Recipients 2014
Thursday, July 3, 2014
Secure World Foundation is proud to announce the young professionals who have won scholarships for travel funding to the 2014 International Astronautical Congress (IAC) in Toronto, Canada. As the premiere international space conference, the IAC offers a unique opportunity for young professionals to further their professional development and inject new ideas into the community.  More than 30 abstracts from young professionals around the world were submitted. After a rigorous scoring process, the six winners selected to receive scholarships are as follow:

Joyeeta Chatterjee - Legal Issues Relating to Unauthorized Space Debris Remediation
Joyeeta Chatterjee is a graduate from the Institute of Air and Space Law, McGill University where she was awarded the Nicolas Mateesco Matte Prize for outstanding performance in space law. She is also an alumnus of the International Space University. She has gained professional experience during internships at Arianespace and the Indian Space Research Organization.
Joyeeta's research interests include public international law, international and national space law and policy – particularly, the legal aspects of space sustainability, commercial human spaceflight and exploitation of planetary resources. Owing to her passion in space outreach activities and international space collaboration, she is actively involved with the Space Generation Advisory Council where she is the incumbent Project Co-Lead for the Space Law Project Group. In recognition of her contributions to the organization, she was awarded the 2011 SGAC Young Leader Award at the Space Generation Congress 2011, Cape Town.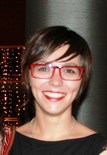 Catherine Doldirina - Privacy, Earth Observations and Legal Ways to Reconcile The Two
Catherine Doldirina is a researcher at the Joint Research Centre of the European Commission (Italy), with the focus on policies and regulations regarding access to and use of geographic and Earth observation data. Her expertise lies in the field of intellectual property law some fields of European law, (geographic) data policies and regulations, as well as general questions of space law. She authors work on various aspects of space law and is a member of the International Institute of Space Law, as well as a former chairperson of Space Generation Advisory Council.

Rong Du - Space Cooperation in Asia: A Myth
Rong Du is a doctoral candidate specializing in space law at the University of Hong Kong. She earned her LLB and LLM at the University of International Business and Economics in Beijing. She has a passion for space law and policy and would like to work in academic institutions in the future.      

Matteo Emanuelli - The NEO Threat: An Effective Public Communication Strategy        
Matteo Emanuelli works as research engineer and project manager on nanosatellites at Université de Picardie Jules Verne, in France. Graduated from Politecnico di Milano in Space Engineering, he worked also in Russia on a space debris removal project. Matteo has been active in the Space Generation Advisory Council (SGAC) since 2011 and he is now serving as SGAC's Regional Coordinator for Europe and Co-Lead of the Space Safety and Sustainability Project Group. Matteo is also Feature Editor for Space Safety Magazine and active member of the International Association for Advancement of Space Safety.

Scott Fisher - Debris Creation in Geostationary Transfer Orbits: A Review of Launch Practices 2004 - 2012
Scott Fisher is an Australian Mechanical and Space Engineer currently working in the Optical Payloads Group at Surrey Satellite Technology Ltd, United Kingdom. He is a graduate of the University of Queensland, and has previously worked at the German Aerospace Centre (DLR), where he researched the decay of launch vehicle upper stages in Geostationary Transfer Orbit. Outside of work he is an active member of the Space Generation Advisory Council (SGAC), and the Institute of Mechanical Engineers (IMechE).

Scott Freese - Analysis of US Policy and Legal Impediments to OOS Activities 
Scott Freese is a recent graduate of the George Washington University, where he received his M.A. in International Science and Technology Policy, with a concentration in Space Policy. He received his Bachelor's degree in Astrophysics from Lehigh University in 2008 and is currently an engineer at NASA's Goddard Space Flight Center. Scott's research has focused on the sustainable use and economic development of space and he will present on these issues at IAC, specifically regarding On-Orbit Satellite Servicing.
Last updated on December 9, 2017