SWF Actively Contributes to SSA Policy Discussions at 2013 Maui AMOS Conference
Friday, September 13, 2013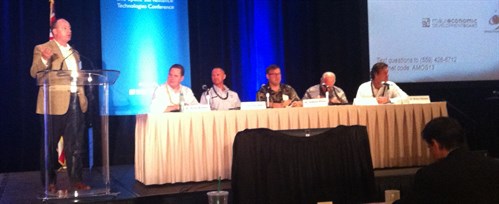 Brian Weeden (second from left) moderates a panel discussion on commercial, civil, and R&D contributions to SSA.
SWF played an active role in the 2013 Advanced Maui Optical and Space Surveillance Technologies (AMOS) Conference, held on the island of Maui from September 10-13. The Conference began with an SSA Policy Forum on Tuesday, September 10. The Policy Forum featured panel discussions on several aspects of SSA policy. The first panel discussion focused on U.S. space policy and included Mr. Frank Rose from the Department of State, Mr. Doug Loverro from the Office of the Secretary of Defense, and Mr Peter Marquez, formerly the Space Policy Director on the National Security Staff.
The second and third panel discussions focused on international SSA activities and policies, with representation by panelists from Australia, France, Canada, Germany, Japan, and the United Kingdom. The fourth and final panel discussion was moderated by SWF Technical Advisor Brian Weeden and featured perspectives on commercial, civil and R&D contributions to SSA.
On Thursday morning, SWF partnered with the Maui Economic Development Board to hold the inaugural AMOS Dialogue, a small, invitation-only workshop to foster dialogue among SSA providers and end users. The goal of the AMOS Dialogue was to promote greater collaboration and cooperation toward SSA-enabled safe and responsible space operations. The 2013 AMOS Dialogue involved 22 participants from seven countries as well as across commercial, civil, and military sectors.
The discussion included updates from some of the major SSA providers on current capabilities and near-term plans as well as ideas on ways various countries and entities could contribute niche SSA capabilities. This was followed by perspectives from a selection of SSA end-users, including a LEO satellite operator and a GEO satellite operator, and the role of SSA in supporting norms of behavior in space and transparency and confidence building measures (TCBMs).
Last updated on December 26, 2013