Analysis of recommendations for space threat reduction through possible norms, rules and principles of responsible behavior: Suggestions to the OEWG from Latin America and the Caribbean
When: Wednesday, August 9, 2023
to Thursday, August 10, 2023
Where: Buenos Aires, Argentina
Secure World Foundation was pleased to co-organize the "Analysis of recommendations for space threat reduction through possible norms, rules and principles of responsible behavior: Suggestions to the OEWG from Latin America and the Caribbean" workshop, August 9 and 10, 2023 in Buenos Aires, Argentina.
This workshop, co-organized by UNIDIR, the Comisión Nacional de Actividades Espaciales (CONAE), the Argentinian Ministry of Foreign Affairs, International Trade and Worship, and the Secure World Foundation, was designed to raise awareness about the matters addressed in the Open-Ended Working Group (OEWG) among States of the Latin American and Caribbean regions and foster a better understanding of regional perspectives on space security. The event brought together a diverse range of experts, and provided an informal discussion around current challenges to space security and stability, and the role that norms, rules, and principles can play in keeping space a peaceful domain.
You may read Dr. Peter Martinez's opening remarks, "Enhancing Space Security Through Norms, Rules and Principles of Responsible Behavior" here.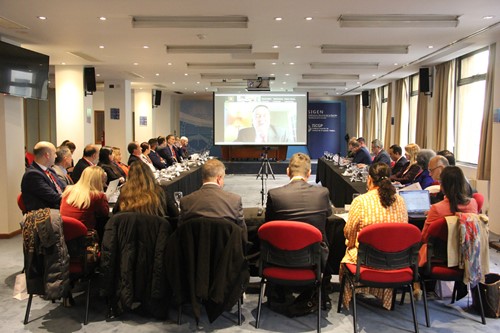 This event was by invitation-only.  For more information, please contact SWF Washington Office Director Victoria Samson.
Last updated on September 6, 2023