SWF Leads Discussions on Commercial SSA Markets, U.S. Civil SSA Efforts, and Translating Best Practices to STM at 2023 AMOS Conference
Wednesday, October 4, 2023
For the eleventh year, SWF staff contributed to the annual Advanced Maui Optical and Space Surveillance Technologies (AMOS) Conference. which was held in a hybrid format from Sept. 19-22, 2023. SWF helped organize and actively participated in the Policy Forum held at the beginning of each day, which consisted of a keynote speaker followed by a panel discussion on a policy topic related to space situational awareness (SSA), and also organized a side event, the AMOS Dialogue, to discuss issues related to SSA data sharing.
The first day of the conference kicked off with a keynote from General B. Chance Saltzman, Chief of Space Operations for the United States Space Force. He was followed by a panel discussion on "Evolution of the Commercial SSA Data Market" that was moderated by SWF Washington Office Director Victoria Samson. Ms. Samson's panel included Kevin O'Connell, Principal at Space Economy Rising; Audrey Schaffer, Vice President of Policy and Strategy at Slingshot Aerospace; Shreyas Mirji, Vice President of Business and Strategy for Digantara; and Mahhad Nayyer, a graduate research assistant at Perdue University. The panel discussed how the commercial SSA sector has evolved over the last decade and what the challenges are for future growth, including identifying customers and standards for data sharing as well as the balance between the role of the government and private sector in ensuring safety of spaceflight activities.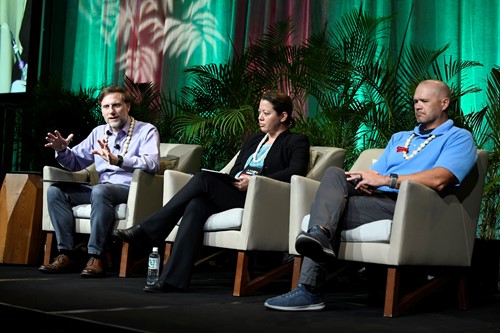 The second day of the conference began with a keynote from Dr. Diane Howard, Director of Commercial Space Policy with the White House's National Space Council. Her keynote was followed by a panel on "U.S. Progress on Civil SSA and STM" that was moderated by Mr. Jamie Morin from the Aerospace Corporation and included Richard DalBello, Director of the Office of  Space Commerce; Barbara Golf, Strategic Advisor for Space Domain Awareness to the U.S. Space Force; Travis Blake, Space Traffic Coordination Program Officer at NASA; and Travis Langster, Principal Director for Space and Missile Defense Policy at the Office of the Secretary of Defense. The panel provided updates on what progress has been made so far in implementing Space Policy Directive 3 and plans for the future of U.S. government civil SSA and STM capabilities.
Following the Policy Forum on Thursday, SWF partnered with MEDB to hold the eleventh annual AMOS Dialogue in Maui, a small, invitation-only workshop to foster dialogue on SSA policy issues. This year's AMOS Dialogue brought together more than 30 experts from industry, academia, and government to discuss how to move from industry best practices to space traffic management "rules". A summary report from the Dialogue will be available soon and summaries from previous year's AMOS Dialogues can be found here.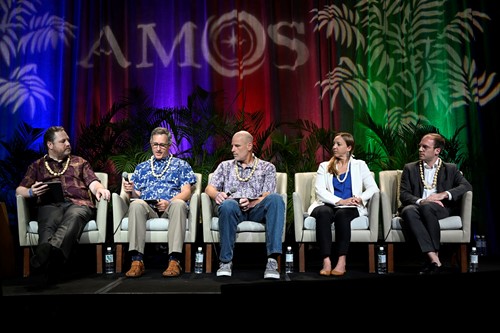 The third day of the AMOS conference began with a keynote by Elizabeth Pearce, acting Director Space Transportation and Human Spaceflight at the Australian Space Agency. Her keynote was followed by a panel discussion on "Moving from Industry Best Practices to Space Traffic Management Rules" that was moderated by SWF Director of Program Planning Dr. Brian Weeden. Dr. Weeden's panel included Jerome Barbier, Head of outer space, digital, and economic issues for the Paris Peace Forum; Mariel Borowitz from the Office of Space Commerce; Daniel Oltrogge, Founder and Administrator of the Spaceflight Safety Coalition; and David Goldstein, Principal Engineer at SpaceX. The panel discussed how to assess the existing private sector best practices and standards as a baseline for STM, existing gaps that still need to be covered, and how to move forward towards a common STM regime.
Last updated on October 3, 2023