Insight - Through a New Lens - Max Alexander's 'Our Fragile Space' Exhibit on Space Sustainability
Thursday, September 14, 2023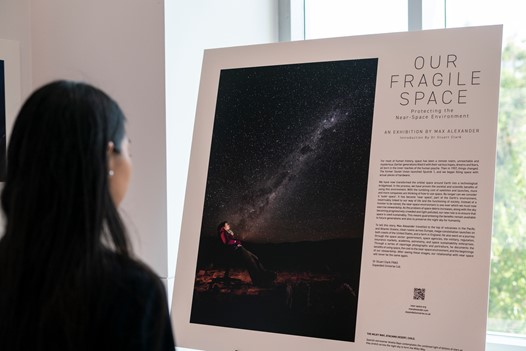 Photo: A viewer reads the opening display for "Our Fragile Space".
The space world can often be a bit insular, focused on data and engineering, or for those of us who care and work on space sustainability, absorbed in how best to push forward on stronger policies, technologies, and other solutions to this pressing challenge. We cannot forget the importance of communicating about space and space sustainability issues to a wider audience, whether it's the public, politicians, scientists in other fields, or young people. 
Professional photographer Max Alexander, who specializes in science communication, brings a different perspective to this issue. He is passionate about understanding the universe, showcasing it, and thereby making it meaningful to others. His approach embodies the essence of STEAM (Science, Technology, Engineering, Arts, and Math) which seeks to inspire and to use imagination and creativity in the arts to support more traditional STEM learning. A Fellow of the Royal Astronomical Society, Max uses his unique artistic and scientific background in his photographic work on science, astronomy, and politics resulting in iconic photos of luminaries such as Neil Armstrong, Stephen Hawking, and Nelson Mandela, as well as in-depth exhibitions on science topics ranging from astronomy to atoms. 
Max recently turned his attention to the subject of orbital debris and space sustainability, and the result is the exhibit 'Our Fragile Space: Protecting the Near Earth Environment.' Award winning journalist and author Dr. Stuart Clark provides an introduction:
"For most of human history, space has been a remote realm, unreachable and mysterious. Earlier generations filled it with their various hopes, dreams and fears, all born in the inner reaches of the human psyche. Then in 1957, things changed. The former Soviet Union launched Sputnik 1, and we began filling space with actual pieces of hardware.
We have now transformed the orbital space around Earth into a technological bridgehead. In the process, we have proven the societal and scientific benefits of using this environment. With the tumbling cost of satellites and launches, more and more companies are thinking of how to use space. No longer can we consider it 'outer space'. It has become 'near space', part of the Earth's environment, inextricably linked to our way of life and the functioning of society. Instead of a frontier to be tamed, the near-space environment is one over which we must now exercise stewardship. As the problem of space debris increases, along with the sky becoming progressively crowded and light polluted, our new role is to ensure that space is used sustainably. This means guaranteeing the benefits remain available to future generations and also to preserve the night sky for humanity.
To tell this story, Max Alexander traveled to the top of volcanoes in the Pacific and Atlantic Oceans, clean rooms across Europe, mega-constellation launches on both coasts of the United States, and a farm in England. He also went on a journey through the space sector: government, space agencies, the military, regulation, insurance markets, academia, astronomy, and space sustainability enterprises. Through a series of reportage photographs and portraiture, he documents the benefits of using space, the cost to the near-space environment, and the beginnings of our stewardship. After seeing these images, our relationship with near space will never be the same again.
Secure World Foundation was proud to partner with the Space Policy Institute at George Washington University for the opening of this exhibit in Washington, DC on Sept. 12, 2023. This event followed numerous successful showings throughout Europe including at Lloyd's of London, Jordell Bank, Coventry Cathedral, Spaceport Cornwall, and the Vienna International Centre during a recent meeting of the United Nations Committee on Peaceful Uses of Outer Space.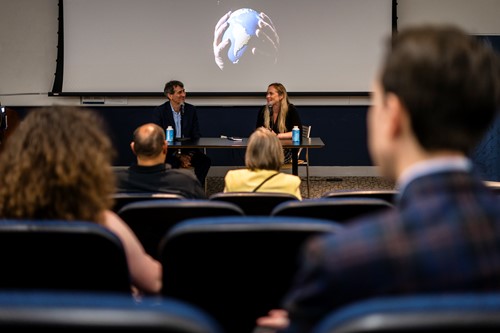 Photo: SWF's Krystal Azelton and Max Alexander discuss visual storytelling for space.
During this event, Max shared why he chose this topic as a focus of his impressive visual storytelling. Alarmed by the increasing number of satellites, the problems of space debris, and potential impact on professional astronomy, he sought to tell the story, not from the perspective of space itself, but rather "looking up from Earth" as an arc to help the viewer see how it benefits humanity and their own lives. His photographs start with depictions on how we benefit and depend on space before presenting the idea of space as the fourth domain for human activity along with land, oceans, and atmosphere. The photographs then show how we monitor space, with creative photographs of satellites, tracking technologies, and space debris. Finally, he zooms out to the wider story of how the world is responding to the changing space environment through efforts for space sustainability including new technologies, governance structures, and advocacy. 
Most importantly, this exhibit situates the challenges of space sustainability in context on Earth through portraits of scientists and industry workers. One photograph of a junkyard with heaping piles of aluminum waste serves to help the viewer understand both the materials of space debris and also the scale. Another shows former NASA scientist Donald Kessler behind a table of tumbling dominos to illustrate the eponymous syndrome he warned the world about decades ago. Max doesn't skimp on the science either, as several photos seek to bring home the danger posed by the velocity of space debris on critical infrastructure. 
Art can help to make the invisible, visible. In the end, anyone who chooses to engage with this exhibit comes away with a better understanding of the fragility of the near space environment, its importance as a finite but critical resource for solving human problems, and the need for better stewardship by all of us.  As this exhibit continues to tour the world, it serves as a catalyst for wider science communication and engagement on this topic for the public, industry, and policymakers. 
The exhibit is currently on display to the public at George Washington University's Elliott School of International Affairs (1957 E ST NW, Washington, DC 20052) in the atrium outside the Harry Harding Auditorium on the second floor. It will remain open through the end of the fall semester, approximately December 12, 2023.
Photography Credit: Jordan Tovin
Last updated on September 22, 2023