SWF's Krystal Azelton moderated the "Communicating about Climate Change: Can the Space Industry Tell Our Story Better?" panel at the IAF Global Space Conference On Climate Change
Tuesday, May 23, 2023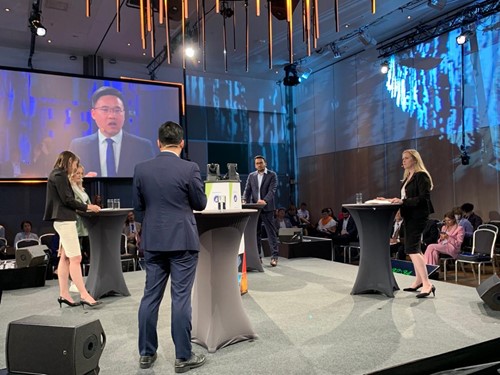 SWF's Director of Space Application Krystal Azelton moderated the panel "Communicating about Climate Change: Can the Space Industry Tell Our Story Better?" at IAF's Global Conference on Climate Change. Featuring Camille Bergin (@TheGalacticGal) from Vast, Emma Gatti from SpaceWatch.Global, Wu Lei from China Global Television Network, and Aravind Ravichandran from TerraWatch Space, this session linked outreach and community understanding of how space assets and data serve as a tool for climate action. They discussed current challenges including too much focus on what our industry does rather than on impacts and a growing negative narrative around billionaires in space and offered concrete solutions such as rethinking how, when, and where the industry communicates with other stakeholders.
The full session can be viewed here. The original event posting from Secure World can be found here.
The High-Level Summary from the IAF Global Space Conference on Climate Change (GLOC 2023) is now available, and can be accessed here.
Last updated on October 10, 2023