Brian Weeden Receives 2023 Doolittle Award from MIT Security Studies Program
Monday, May 1, 2023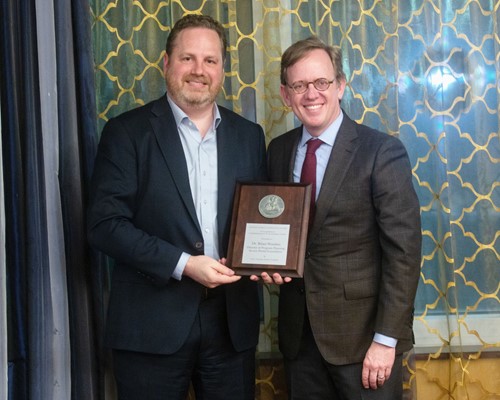 Dr. Weeden receives the 2023 General Jimmy Doolittle Award from Dr. M. Taylor Fravel, Director of the MIT Security Studies Program.
On Tuesday, April 25, SWF Director of Program Planning Dr. Brian Weeden was honored to receive this year's General Jimmy Doolittle Award from the Security Studies Program (SSP) at the Massachusetts Institute of Technology (MIT). The award is given annually at a reception commemorating the legacy of James "Jimmy" Doolittle, a US Air Force General, aviation pioneer, and MIT alumnus who led the Doolittle Raid on Tokyo during World War II. Each year, SSP faculty and students and guests from the broader MIT and military communities gather to honor the recipient, who is chosen for their contributions to the field of air and space power. 
The SSP faculty chose Dr. Weeden to receive this year's award in recognition of his contributions to national security space policy. At the event, Dr. Weeden gave an invited talk summarizing his career in the aerospace field, starting from his time as an officer in the U.S. Air Force working on nuclear launch operations and space situational awareness, and then how he transitioned to his role at SWF and focusing on space policy. Dr. Weeden discussed the debates in the U.S. space security community over the last fifteen years for how to respond to renewed counterspace threats and why the United States has found it so challenging to shift towards a more resilient national security space architecture. 
Last updated on May 1, 2023