SWF Leads Discussions on Verifying Future Space Agreements, Orbital Carrying Capacity, and Europe's Approach to STM at 2022 AMOS Conference
Monday, October 10, 2022
For the tenth year, SWF staff contributed to the annual Advanced Maui Optical and Space Surveillance Technologies (AMOS) Conference. which was held in a hybrid format this year from Sept. 27-30, 2022. SWF helped organize and actively participated in the Policy Forum held at the beginning of each day, which consisted of a keynote speaker followed by a panel discussion on a policy topic related to space situational awareness (SSA), and also organized a side event, the AMOS Dialogue, to discuss issues related to SSA data sharing.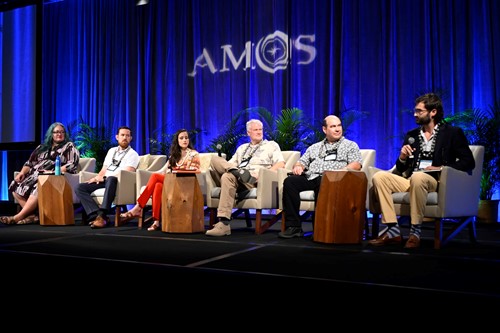 The first day of the conference kicked off with a keynote from Lieutenant General Michael A. Guetlein, Commander, Space Systems Command, United States Space Force. He was followed by a panel discussion on "Using SSA to Verify Future Space Security Agreements" that was moderated by SWF Washington Office Director Victoria Samson. Ms. Samson's panel included Almudena Azcarate Ortega, Associate Researcher on Space Security and Weapons of Mass Destruction Programmes with the United Nations Institute for Disarmament Research (UNIDIR); Daniel Ceperley, Founder & CEO, LeoLabs; Michael Gleason, Senior Project Engineering for the Center for Space Policy and Strategy, The Aerospace Corporation; Douglas Hendrix, CEO, ExoAnalytic Solutions; and Benjamin Silverstein, Research Analyst at the Carnegie Endowment for International Peace (CEIP). The panel discussed the status of current multilateral discussions on space threats and how SSA capabilities might be used to verify future space security agreements.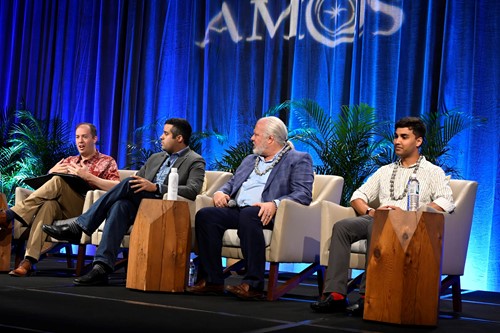 The second day of the conference began with a keynote from Dr. Ezinne Uzo-Okoro, Assistant Director for Space Policy at the White House Office of Science and Technology Policy. Her keynote was followed by a panel on "Is Orbital Carrying Capacity a Useful Metric?" moderated by SWF Director of Private Sector Programs Ian Christensen. Mr. Christensen's panel included John Janka, Chief Officer for Global Government Affairs & Regulatory at Viasat; Francesca Letizia, Space Debris Engineer at the European Space Agency; Hugh Lewis, Professor of Engineering and Physical Sciences at the University of Southampton; Richard Linares, Associate Professor of Aeronautics and Astronautics at Massachusetts Institute of Technology; and Akhil Rao, Assistant Professor of Economics at Middlebury College. The panel discussed the current status of research on orbital carrying capacity and how it might be useful in the future for making decisions about licensing and oversight of large constellations. 
Following the Policy Forum on Thursday, SWF partnered with MEDB to hold the tenth annual AMOS Dialogue in Maui, a small, invitation-only workshop to foster dialogue on SSA policy issues. This year's hybrid AMOS Dialogue brought together more than 30 experts from industry, academia, and government to discuss the relationship between SSA capabilities and verification regimes to support future space security agreements. A summary report from the Dialogue will be available soon.

The third day of the AMOS conference began with a keynote by Richard DalBello, Director of the Office of Space Commerce at the National Oceanic and Atmospheric Administration in the U.S. Department of Commerce. His keynote was followed by a panel discussion on "The European Perspective on Space Traffic Management" that was moderated by SWF Director of Program Planning Brian Weeden. Dr. Weeden's panel included Pascal Faucher, Chair of the European Union's Space Surveillance and Tracking Program; Sebastien Moranta, Research Manager for the European Space Policy Institute; Rodolphe Muñoz, Legal Officer for the European Commission's Directorate General for Defence Industry and Space; and Regina Peldszus, Space Policy Officer for the European External Action Service. The panel discussed the joint communication issued by the European Union in February 2022, on space traffic management and what it means for Europe going forward. 
During the conference, Brian Weeden was a co-author on a paper entitled "Sharing Operational Risk Information in the Space Domain to Facilitate Norms Development and Compliance Monitoring" that was presented during the session on Space Situational Awareness.
For more information, please contact Dr. Brian Weeden or Ms. Victoria Samson.
Last updated on October 10, 2022