SWF Guides Discussions on Right of Way, Multilateral Norms, and Building Trust and Transparency at 2021 AMOS Conference
Monday, September 27, 2021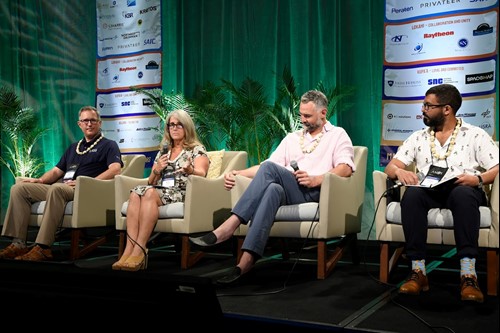 (left-to-right) Dan Oltrogge, Ruth Stillwell, Zack Donohew and Daniel Porras
For the ninth year, SWF staff contributed to the annual Advanced Maui Optical and Space Surveillance Technologies (AMOS) Conference. which was held in a hybrid format this year from Sept. 15-17, 2021. SWF helped organize and actively participated in the Policy Forum held at the beginning of each day of the conference, which consisted of a keynote speaker followed by a panel discussion on a policy topic related to space situational awareness (SSA), and also organized a side event, the AMOS Dialogue, to discuss issues related to SSA data sharing.
The first day of the conference kicked off with a keynote from Major General DeAnna Burt, Commander, Combined Force Space Component Command, United States Space Command, and Vice Commander, Space Operations Command, United States Space Force. She was followed by a panel discussion on "Lessons Learned from Recent Satellite Servicing Missions" that was moderated by SWF Director of Program Planning Dr. Brian Weeden. Dr. Weeden's panel included Joseph Anderson, Vice President of Operations & Business Development, SpaceLogistics; Ralph Dinsley, Executive Director, Northern Space & Security Ltd; Mike Lindsay, Chief Technology Officer, Astroscale; and Lt Col Alfred Maynard, Commander, 20th Space Control Squadron, United States Space Force. The panel discussed recent commercial satellite servicing missions and demonstrations and how existing SSA capabilities were able to monitor and support them and the lessons learned for conducting future servicing missions and future SSA requirements.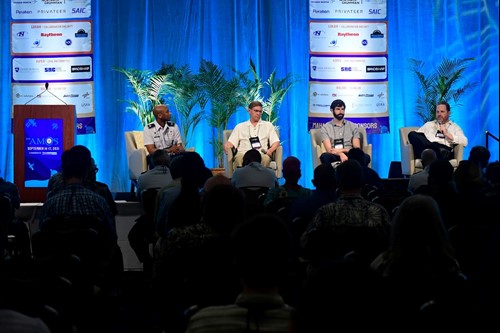 (left-to-right) LtCol Alfred Maynard, Joe Anderson, Mike Lindsay, and Brian Weeden
The second day of the conference began with a keynote by Colonel Scott D. Brodeur, Director of the National Space Defense Center and Director of Operations, Joint Task Force Space Defense United States Air Force. The keynote was followed by a panel discussion on " Large Constellations and Right-of-Way in Space " moderated by SWF Director of Strategic Partnerships and Communications Mr. Daniel Porras. Mr. Porras' panel included Emmanuelle David, Executive Manager, EPFL Space Center; Zack Donohew, Scholar in Residence, Leeds School of Business, University of Colorado Boulder; David Goldstein, Principal Guidance Navigation and Control Engineer, SpaceX; Dan Oltrogge, Director, Integrated Operations and Research, COMSPOC Corporation; and Ruth Stilwell, Executive Director, Aerospace Policy Solutions LLC. The panel discussed the current legal and operational framework for determining right-of-way for satellites and other potential solutions to improve the coordination and resolution of close approaches in space, particularly from large constellations.
Following the Policy Forum, SWF partnered with MEDB to hold the ninth annual AMOS Dialogue in Maui, a small, invitation-only workshop to foster dialogue on SSA policy issues. This year's hybrid AMOS Dialogue brought together more than 30 experts from industry, academia, and government to discuss tools to improve the transparency of close approaches in the geosynchronous regions and how technologies such as blockchain can help improve trust in SSA data sharing. A summary report from the Dialogue will be available soon.
The third day of the AMOS conference began with a keynote by Ms. Carine Claeys, Special Envoy for Space, Head of the Space Task Force, European External Action Service. Her keynote was followed by a panel discussion on "| Results of the Recent UN Resolution on Norms of Behavior in Space" moderated by SWF Washington Office Director Ms. Victoria Samson. Ms. Samson's panel included Eric Desautels, Acting Deputy Assistant Secretary of State for Emerging Security Challenges and Defense Policy, Bureau of Arms Control, Verification and Compliance, United States Department of State; David Edmondson, Policy Head, Space Security and Advanced Threats, Security Policy Department, United Kingdom Foreign, Commonwealth and Development Office;  Audrey Schaffer, Director for Space Policy, National Security Council; Jessica West, Senior Researcher, Project Ploughshares; and Wen Zhou, Legal Adviser, Arms Unit, International Committee of the Red Cross.
During the conference, Mr. Porras presented a paper on "The Security Benefits of Safety Norms." This presentation noted that current efforts to call out irresponsible behavior by Russia and China are often diluted by US actions of a similar nature. He proposed that having norms of behavior for RPOs, such as "safety zones" would provide an objective standard by which to measure and call out irresponsible behavior. Dr. Weeden was also a co-author on a technical paper on "Decentralized Space Information Sharing
as a Key Enabler of Trust and the Preservation of Space" that was a poster paper at the conference. 
The 2021 AMOS Conference also included the third EMER-GEN, a joint program from the AMOS Conference and the Space Generation Advisory Council (SGAC) designed especially for young professionals and students (35 and under) enthusiastic about careers in space. The virtual EMER-GEN program offered mentoring with renowned space leaders; interactive professional development sessions; technical short courses; and networking with other young professionals. Mr. Porras participated in this year's EMER-GEN working groups. 
For more information, please contact Dr. Brian Weeden or Ms. Victoria Samson.
Last updated on September 28, 2021