Brian Weeden Discusses Geopolitical Space Competition and Cooperation at Wilson Center Event
Wednesday, October 14, 2020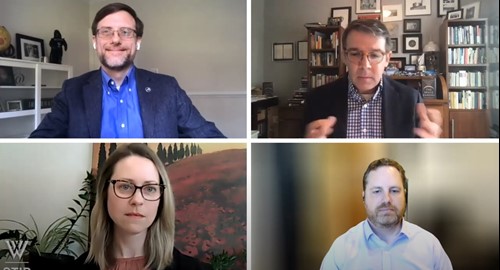 SWF Director of Program Planning Dr. Brian Weeden participated in a virtual event hosted by the Wilson Center and sponsored by the Aerospace Corporation on "Seeking Strategic Advantage: How Geopolitical Competition and Cooperation are Playing Out in Space". The event began with a keynote address from Jim Bridenstine, the Administrator of NASA, who spoke about the role NASA plays in the future of geopolitical competition and cooperation in space. Administrator Bridenstine was followed by a panel discussion on the role of norms of behavior in space in dealing with militarization and weaponization. The panel included Dr. Weeden, Dr. Jessica West from Project Ploughshares, and Dr. Jamie Morin from the Aerospace Corporation, and was moderated by Mr. Christian Davenport from the Washington Post. 
The event concluded with a second panel discussion on cooperation in a crowded space domain, featuring Congresswoman Kendra Horn, Chairwoman of the House Subcommittee on Space and Aeronautics; Ms. Therese Jones, Senior Director of Policy at the Satellite Industry Association; also moderated by Mr. Davenport. 
A recording of the event can be found below. 
Last updated on October 14, 2020