SWF Facilitates Discussions on Priorities for South Korean Space Situational Awareness
Monday, January 28, 2019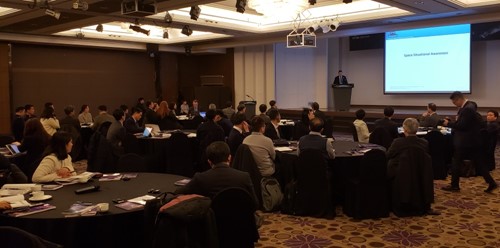 The Secure World Foundation (SWF) and the Korean Aerospace Research Institute (KARI) co-hosted an invite-only 2-day workshop where participants undertook a wide-ranging examination of global space situational awareness (SSA) trends, the state of SSA capabilities internationally, and drivers for improving SSA and meeting future SSA needs. The workshop aimed to increase the understanding of SSA issues in Korea, and to facilitate the dialogues between and among the international experts and key stakeholders in Korea on potential future SSA policy and capabilities, thereby promoting greater collaboration and cooperation to enhance SSA for safe and responsible space activities. 
SWF Director of Program Planning Dr. Brian Weeden gave presentations on trends in national security space and U.S. policies and capabilities for SSA and moderated a panel on improving SSA data sharing. SWF Director of Private Sector Engagement Mr. Ian Christensen gave presentations on trends in commercial space and commercial SSA capabilities. SWF Washington Office Director Ms. Victoria Samson moderated a panel on the link between SSA and national security and also participated in a panel on options for Korean SSA capabilities.
More details, including the agenda and presentations, can be found on the event page.
Last updated on January 30, 2019