SWF Supports The 9th Asia/Oceania Meteorological Satellite Users' Conference
Tuesday, October 16, 2018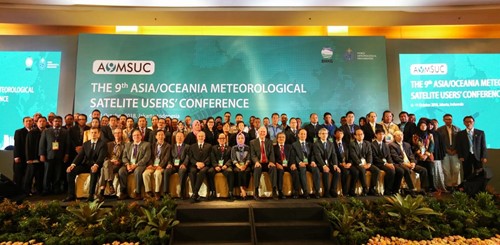 Over 230 participants from 44 countries attended and participated in the 9th Asia/Oceania Meteorological Satellite Users' Conference in Jakarta, Indonesia. Consistent with SWF's efforts to apply principles of cooperative governance to space and space-based applications, the meeting sought to define meteorological user needs in the region, support development of an integrated operational distribution system to meet them, advance satellite remote sensing science, and engage young scientists.
SWF's partnered with the World Meteorological Organization (WMO) and the Indonesia Agency for Meteorology Climatology and Geophysics (BMKG) by facilitating the presence of a broadly representative team of professionals from several Oceania countries. Attendees also participated in two days of technical training on RGB techniques for meteorological applications.
More information is available on the event page here.
Last updated on October 17, 2018