SWF Supports Space Generation Congress 2018
Friday, October 5, 2018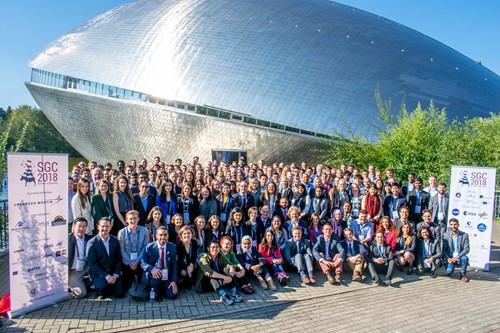 SWF's Director of Space Application Programs Krystal Wilson and Project Manager Josh Wolny helped plan and participated in the Space Generation Advisory Council's (SGAC) 2018 Space Generation Congress (SGC). This year's SGC took place from September 27-29 at the University of Bremen and was attended by over 150 students and young professionals participating in three days of high-level lectures, working groups, cultural events, and networking opportunities. The Secure World Foundation is a Gold Level sponsor of SGC.
Secure World Foundation is pleased to have been able to sponsor the Working Group on Space Policy, with the goal of exploring how space applications and technologies can be used to address some of the challenges faced in achieving the Sustainable Development Goals (SDGs). Ms. Wilson served as the subject matter expert for the working group. Mr. Wolny was a delegate and rapporteur of the Working Group on Space Logistics, sponsored by the ArianeGroup.
A full report of the groups findings will be developed in the coming months as part of SGAC's presentation to the UNCOPUOS next year.
All delegates were presented with a copy of the Handbook for New Actors in Space.
Last updated on October 5, 2018