The Third Annual Space Weather as a Global Challenge Event Highlights Opportunities for Collaboration
Tuesday, July 24, 2018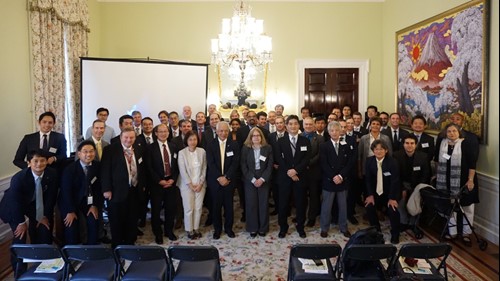 On July 24, the SWF partnered with U.S. Department of State and the Washington Embassy of Japan to host the 2018 Space Weather as a Global Challenge event. Held on the grounds of the Japanese Embassy, this day-long event featured speakers from around the world presenting and discussing the impacts of space weather and plans to collaborate to observe, model, predict, and mitigate harmful effects. 
SWF's Krystal Wilson moderated the first international panel with representatives from the Canadian Space Agency, European Space Agency, European Union, Italian Embassy, and the National Oceanic and Atmospheric Administration. Throughout the day, current complimentary efforts in observation and other areas were praised, but a need for greater collaboration among emergency preparedness agencies, utilities, commercial enterprise, and capacity building were noted. 
More information, including audio recordings and presentations are available at the event page here.
Last updated on January 8, 2019