SWF Co-Sponsored the 2018 Space Weather Enterprise Forum
Wednesday, July 25, 2018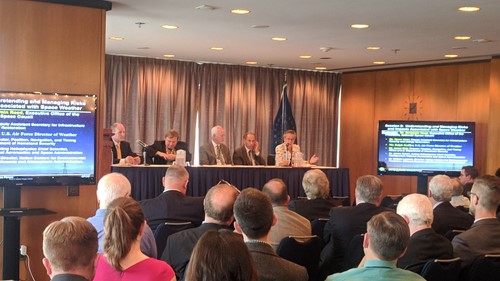 SWF co-sponsored, with the National Space Weather Partnership, the 2018 the Space Weather Enterprise Forum. Held on Capitol Hill, this year's event focused on a theme of "Advancing National Space Weather Research and Forecast Capabilities."
The forum brought together a blended audience of space weather experts from both research and operations, space weather data users from the public and private sectors, academia, international representatives, and policy makers. Four panels discussed space weather impacts and mitigation, space weather services and supporting infrastructure, the National Space Weather Strategy, and the National Space Weather Partnership.
The 2018 Space Weather Enterprise Forum brought together the space weather community to share information and ideas among policymakers, senior government leaders, researchers, service-provider agencies, private-sector service providers, space weather information users, media, and legislators and staff from Capitol Hill to raise awareness of space weather and its effects on society. This year, the event focused on critical infrastructure protection, with the necessary underpinnings of research, improved products and services, and applications to serve a broad and growing user community. Congressman Ed Perlmutter, one of the sponsors of the recently approved Space Weather Research and Forecasting Act, gave an opening address. Two panel discussions featured experts on "understanding and managing risks and impacts associated with space weather" and "implementation of activities across the space weather enterprise for the protection of critical infrastructure."
Director of Space Applications Programs Krystal Wilson served on the planning committee.
Audio recordings and more information will be available in the coming weeks on our event page.
Last updated on January 8, 2019