Key Issues in Democratizing Space Data Presented by Krystal Wilson at the Global Space Applications Congress
Wednesday, May 23, 2018
On May 21-23, Director of Space Applications Programs, Krystal Wilson participated in the Global Space Applications Congress (GLAC) in Montevideo, Uruguay. This conference was co-organized by the International Astronautical Federation (IAF) and Centro de Investigación y Difusión Aeronáutico-Espacial (CIDA-E) and marks the first time one of IAF's global conference series has been held in South America. GLAC 2018 was designed to encourage the sharing of programmatic, technical and policy information, as well as collaborative solutions, challenges, lessons learnt, and paths forward among all nations with the desire to improve space applications and their usage.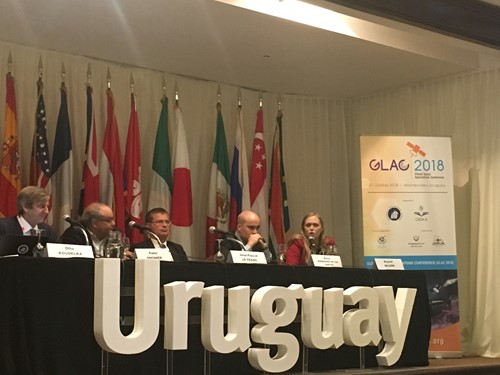 Ms. Wilson spoke on the plenary panel "Democratizing Space Data" where she shared some considerations for increasing the access to and use of Earth observation data. Her presentation can be found here.
One May 21st, Ms. Wilson moderated a working group on policy and legal considerations at the SGAC/IAF Seminar: Space Applications, a pre-event for young professionals. She also gave a keynote presentation on diversity in the space sector at the SGAC/IAF "3G" IDEA Networking Lunch.
View Publication
Last updated on May 25, 2018