Human and Environmental Security at the 7th Digital Earth Summit
Thursday, April 19, 2018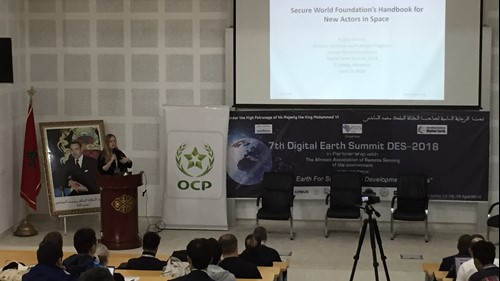 SWF Director of Space Applications Programs Krystal Wilson gave a keynote presentation at the 7th Digital Earth Summit 2018 (DES-2018), held in El Jadida, Morocco from April 17-19.
This conference was organized by the International Society for Digital Earth (ISDE), the Chouaib Douakkali University (UCD) in partnership with the African Association of Remote Sensing of the Environment (AARSE) and the Moroccan Association of Remote Sensing of the Environment (MARSE). The conference rotates every two years to different regions in the world, taking place this year for the first time on the African continent.
Since the concept of "Digital Earth" was put forth in 1998, by the vice-president of the United States Al Gore, the development of Digital Earth has thrived with the help of active promotion by scientists from various countries. In recent decades, the concept has evolved thanks to the development and adoption of technologies such as earth observation, geo-information systems, global positioning systems, communication networks, sensor webs, electromagnetic identifiers, virtual reality and grid computation.
DES-2018 brought together scientists and professionals from the African and international community to present latest achievements, discuss challenges, and share experiences. The conference featured keynote speeches delivered by leading scholars, technical sessions with reports of the latest research outcomes, discussion sessions on operational topics such as capacity building, Spatial Data Infrastructure (SDI), big data, space policy, programs and projects, as well as commercial exhibitions showing latest products and services in Digital Earth and geospatial information technologies.
Ms. Wilson's presentation focused on introducing this community to Secure World Foundation and its works including the Handbook for New Space Actors and our policy efforts under the Human and Environmental Security portfolio.
Last updated on May 4, 2018