SWF Participates in the Fifth High Level Forum on United Nations Global Geospatial Information Management
Monday, December 4, 2017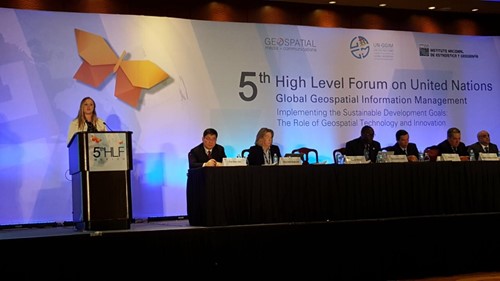 Project Manager Krystal Wilson was a speaker at the Fifth High Level Forum on United Nations Global Geospatial Information Management (UN-GGIM), held November 27-30 in Mexico City, Mexico. This year's theme was "Implementing the Sustainable Development Goals: The Role of Geospatial Technology and Innovation."
The High Level Forum provided Member States and geospatial information stakeholders the unique opportunity to exchange knowledge, practices and experiences and afford peer-to-peer learning on strategies, approaches and methods to support sub-national, national and regional initiatives towards increasing availability, accessibility and application of high-quality, reliable and timely geospatial information for sustainable development. The Forum aimed to substantively improve and strengthen the national geospatial information management capacities of countries, particularly developing countries, towards implementing the 2030 Agenda and evidence-based policy and decision making.
In the session entitled "Geospatial technologies, platforms and services: Reaching the developing countries," Ms. Wilson presented on some considerations for linking the Sustainable Development Goals with the geospatial industry. Her presentation "Opportunities and Obstacles for Enabling the Use of Geospatial Applications" touched on specific ideas for utilizing space technology for the SDGs including suggesting that the HLF should continue to broaden participation to a variety of potential partners and to ensure the outputs are targeted to the widest possible audience. She stressed that only by continually raising awareness as well as building the practical tools to facilitate user adoption will space truly be able to be a driver of sustainable development.
This year's High Level Forum resulted in the Mexico City Declaration "Implementing the Sustainable Development Goals: The Role of Geospatial Technology and Innovation." This highlights role of geospatial technologies in meeting the SDGs, calls out several key initiatives aimed at doing so, and stressed the need for effective partnerships. 
Last updated on December 7, 2017