SWF Panel Event "Trash in the Skies III" Discusses Space Debris Removal on Capitol Hill
Thursday, November 2, 2017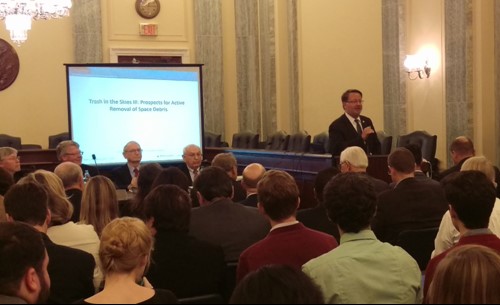 Sen. Gary Peters (D-MI) addresses the audience at Trash in the Skies III
On Thursday, November 2, 2017, SWF held a luncheon panel discussion on Capitol Hill that brought together technical, legal, and policy experts to discuss the case for active debris removal (ADR), and the steps Congress can take to help incentivize the development of ADR technologies and capabilities. The event opened with remarks by Senator Gary Peters (D-MI), a member of the Senate Subcommittee on Space, Science, and Competitiveness, who discussed the Subcommittee's interest in promoting commercial innovation in space and dealing with the problem of space debris.
The event itself featured five panelists. Three of the panelists gave overviews of technologies they are developing to remove space debris. Dr. Marshall Kaplan, of the Launchspace Technology Corporation, made the case for his company's equatorial-orbiting Debris Collection Units--large pads that intercept polar-orbiting debris. Mr. Jerome Pearson from Star Technology and Research gave an overview of their Electrodynamic Debris Eliminator (EDDE), a mile-long tether that carries nets and uses the Earth's magnetic field to maneuver to debris and bring it down to an atmospheric reentry altitude. The Aerospace Corporation's Dr. Siegfried Janson explained their efforts to produce the Brane Craft, a membrane satellite composed of solar cells and electrospray thrusters that is extremely low mass and able to wrap around and relocate space debris. The final two speakers addressed the legal and policy challenges that needed to be addresses to enable ADR. Mr. James Dunstan from the Mobius Group discussed legal challenges, such as the lack of salvage laws in space, and SWF's Director of Program Planning Dr. Brian Weeden highlighted government efforts, or lack thereof, that have led to the space debris problem.
This event was widely attended by Congressional staff and the local space-policy community. More information and event materials, including an audio recording and a transcript in the coming weeks, are available on the event page.
Last updated on January 17, 2018