SWF Contributes to GEO Week 2017
Monday, October 30, 2017
In its role as a participating organization of the Group on Earth Observations (GEO), SWF had an active presence in the GEO-XIV Plenary and side events held in Washington, DC from October 23-27. Participating in the weeklong side events, planning meetings, plenary, SWF engaged with representatives from the international GEO community, including new members and participating organizations, data providers and users. SWF presented the Handbook for New Actors in Space to the GEO members for the first time. Hard copies were distributed in partnership with USGEO at their EO Café booth.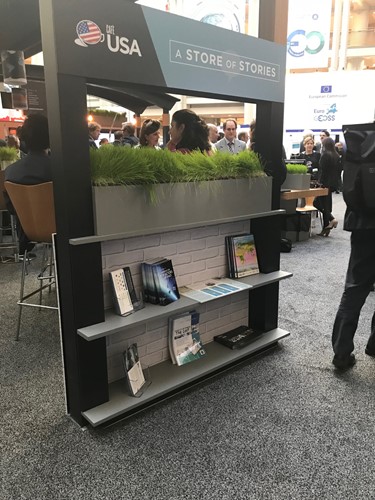 On October 24, 2017, SWF, with co-sponsors CREAF, the Wilson Center, and South Big Data Innovation Hub held a side event entitled "The Role of Citizen Observatories and Crowdsourcing Community in GEOSS." The event featured lightning talks on citizen science programs and observatories and brought together a panel of international government and industry experts to share their thoughts on best practices, and standards for utilizing citizen science for GEOSS. The event concluded with discussions to determine the next steps to advance the objectives of the GEO work programme. For more detailed information, including the full speaker lists, presentations, and event recording, please see the event page.
SWF was also pleased to host a reception on October 23rd for the GEO Week 2017 attendees involved in AmeriGEOSS. This reception followed the AmeriGEOSS side event which featured three panels with experts who discussed lessons learned in strengthening national, regional, and global engagement and the next steps for the AmeriGEOSS initiative.

Last updated on November 1, 2017