SWF Discusses Best Practices for Cubesat Launch, Deployment, and Disposal at 2017 SmallSat Conference
Monday, August 14, 2017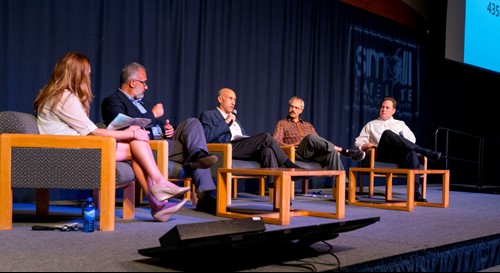 The annual SmallSat Conference in Logan, Utah, has  become the premier gathering of companies, educators, hobbyists, and governments developing cubesat and small satellite technologies. For the third year, SWF had a significant presence at the 2017 SmallSat Conference, held from August 5-10, which had record participation from over 3,000 people from 40 different countries. 
A major theme of SWF's participation at the conference was on norms of behavior. On Sunday, August 6, SWF Director of Program Planning Dr. Brian Weeden participated in a panel discussion on Space Flight Safety during the Cubesat Developers workshop. The panel was a follow-up to a discussion SWF organized at the 2016 Advanced Maui Optical and Space Surveillance Technologies (AMOS) Conference on the relationship between small satellites and space situational awareness. Dr. Weeden's remarks during the SmallSat panel focused on the importance of the smallsat community working together to develop norms of responsible behavior and engaging in the process by which governments are developing national licensing and oversight frameworks. Dr. Weeden also highlighted SWF's Handbook for New Actors in Space as a resource for the smallsat community to increase awareness of best practices across the space community. 
SWF also organized two of its own side events during the week. On Monday, August 7, Dr. Weeden moderated a side meeting to discuss best practices for the launch and deployment of cubesats. More than 40 participants listened to presentations from representatives of the US Air Force's 18th Space Control Squadron, Nanoracks, and Planet share their expertise and lessons learned about the process of launching and deploying cubesats, particularly in large constellations. Their presentations can be found on the event page. On Thursday, August 10, SWF Project Manager Ian Christensen moderated a second side meeting to discuss best practices for cubesat post-mission deployment (PMD). The invite-only meeting brought together experts and operators from the cubesat community to discuss current compliance with debris mitigation guidelines and steps that can be taken to improve awareness of PMD best practices. Mr. Christensen also participated in a meeting of the Commercial SmallSat Spectrum Management Association.
Last updated on August 30, 2017