The 3rd Kalpana Chawla Annual Space Policy Dialogue in New Delhi, India Addressed Socioeconomic Challenges Where Space is an Asset
Thursday, February 23, 2017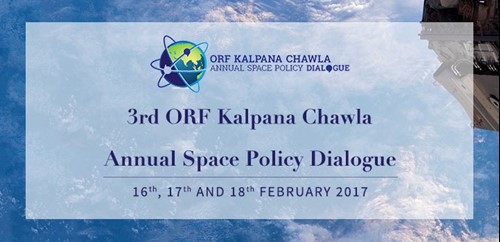 Kalpana Chawla, the first Indian-American woman in space, was part of a growing trend of cooperation in space between India and the United States. In honor of Ms. Chawla and her tragic death on the Columbia Space Shuttle, the Observer Research Foundation (ORF) initiated an annual dialogue highlighting the success of India's cooperation with all the major spacefaring powers in space activities. 
Secure World Foundation was a partner to the 3rd ORF Kalpana Chawla Annual Space Dialogue, which was held in New Delhi, India, Feb. 16-18, 2017. This dialogue allowed for the discussion of the socioeconomic challenges on Earth that must still be overcome in order to expand on the example of research and international cooperation set by Ms. Chawla.  
This conference was primarily organized by SWF advisory committee member, Rajeswari Pillai Rajagopalan.
SWF Washington DC Office Director Victoria Samson spoke on space sustainability and security, and moderated a panel on India's newspace actors.
Visit the 2017 Kalpana Chawla website and the SWF event page for more information.
Last updated on March 8, 2017