SWF Staff Participate in the 54th Session of the Scientific and Technical Subcommittee of UNCOPUOS
Friday, February 10, 2017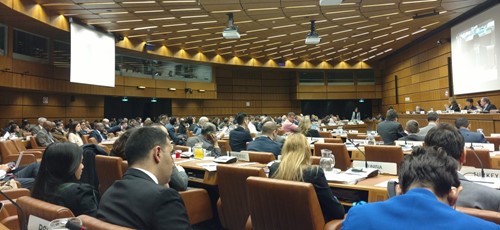 SWF Technical Advisor Dr. Brian Weeden and Program Manager Ms. Krystal Wilson represented SWF at the 54th session of the Scientific and Technical Subcommittee (STSC) of the United Nations Committee on the Peaceful Uses of Outer Space (UNCOPUOS), which was held in Vienna, Austria, from January 30 to February 10, 2017. The annual STSC meeting brings together delegations from more than 80 countries and 20 permanent observer organizations to discuss international space activities and challenges. 
The SWF staff provided an annual update on SWF activities that highlighted SWF's activities between June 2015 and February 2016 in support of the aims of STSC, including ensuring the long-term sustainability of outer space activities, fostering the development of sound space policy and law, and enhancing the use of space technology and international cooperation in support of human and environmental security on Earth. Dr. Weeden also unveiled the new SWF Handbook for New Actors in Space, Ms. Wilson engaged with subcommittee members on the Handbook and topics related to human and environmental security.
SWF staff also participated in the informal technical discussions on guidelines to enhance the long-term sustainability of space activities. UNCOPUOS reached consensus on an initial set of 12 guidelines in June, 2016, and plans to finish discussions on the remaining guidelines in 2018.
Last updated on March 2, 2017