UN/UAE High Level Forum Produces the Dubai Declaration
Wednesday, November 30, 2016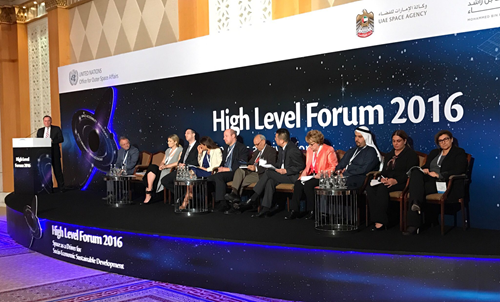 The Secure World Foundation was a sponsoring partner to this year's United Nations/United Arab Emirates (UAE) High Level Forum – Space as a Driver for Sustainable Development, held from Nov. 20-24 in Dubai, UAE. SWF's Executive Director Dr. Michael Simpson and Project Manager Christopher Johnson presented at multiple sessions during the forum, and Dr. Simpson delivered opening remarks and participated in the closing panel.
This year's High Level Forum was held to focus attention and streamline priorities for the planned UNISPACE+50 Conference in 2018. Fifty years after the UN's first conference on outer space, the UNISPACE+50 Conference will bring the international community together again and set the priorities for the future of space governance and the coordination of space activities. Setting goals for international cooperation, the High Level Forum was organized around four themes: space economy, space society, space accessibility, and space diplomacy.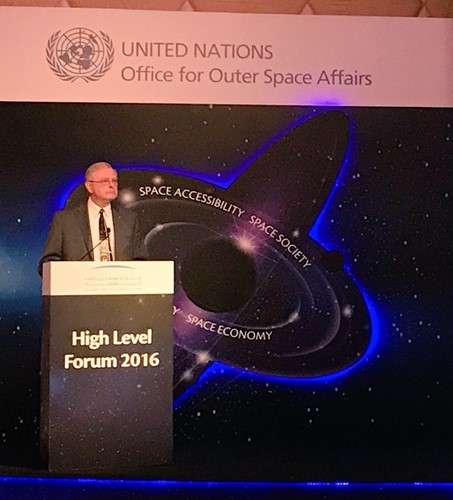 Dr. Michael Simpson's opening remarks reminded the participants of the pressing importance of the High Level Forum as a gathering tasked with a complex mandate and with great potential. "Measuring Value, Defining Benefit" delved into issue of economic and non-economic benefits derived from space activities, issues which may take on greater consequence as more actors conduct more diverse space activities. His statement "Space Assets and the Sustainable Development Goals" highlight the existing role that space assets and technologies have in achieving the UN-wide Sustainable Development Goals.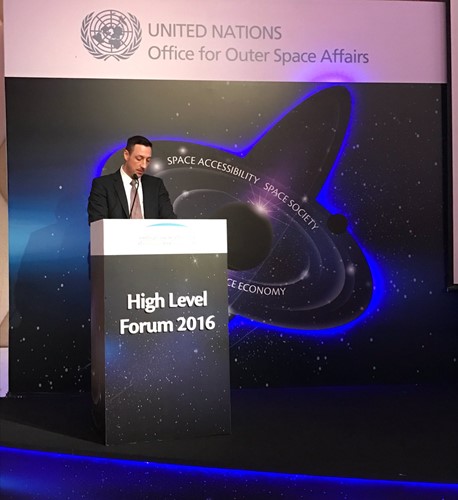 Christopher Johnson's statement "Small Satellite Technology and Space Capability" stressed the importance of small satellite programs as a crucial tool for building capacity and developing domestic competency in space activities. His statement "Perspectives on Sustainable Activities" discussed the need for thoughtful diplomacy in the development of international rules and norms for space.  
The major outcome of the High Level Forum is the Dubai Declaration, adopted by the forum on the final day. As an organizing document, the Dubai Declaration helps to set priorities and focus for UNISPACE+50, and can be read in its entirety by Clicking Here.
Last updated on December 6, 2016