Progress and Planning Ahead: International Best Practices for Outer Space Sustainability
Friday, October 21, 2016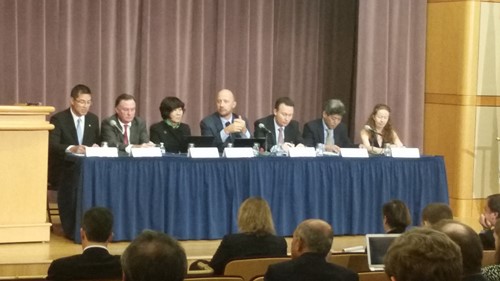 On June 17, 2016, the United Nations Committee on the Peaceful Uses of Outer Space (UN COPUOS) agreed to twelve long-term sustainability (LTS) guidelines, representing "best practices" for the safe and responsible use of space. These twelve voluntary guidelines mark a successful milestone out of years of discussions within COPUOS and represent the Committee's role in fostering international cooperation in ensuring that everyone can continue to derive benefits from the use of space over the long-term. Co-organized by the Secure World Foundation and the U.S. Department of State, "Progress and Planning Ahead: International Best Practices for Outer Space Sustainability" brought together top U.S. and international space policy experts from governments, industry, and academia to discuss the current state of the long-term sustainability guidelines discussions, national implementation strategies, and next steps for the international community to ensure that space is sustainable over the long-term.
This event was attended by over 100 industry professionals and included four panels, each presenting a distinct perspective on the topic: United Nations, national government, industry, and outside experts. Much of the discussion focused on how COPUOS will continue to develop additional LTS guidelines over the next two years, with the goal of having a compendium of LTS guidelines endorsed by the UN General Assembly in 2018. This event marks the first time that representatives from each group of stakeholders have come together publicly to discuss the way forward on the LTS guidelines. 
For the agenda, speaker biographies, and additional materials, please click here.
Last updated on December 5, 2016