SWF Contributes to the 2016 AIAA Space Forum in Long Beach
Thursday, September 15, 2016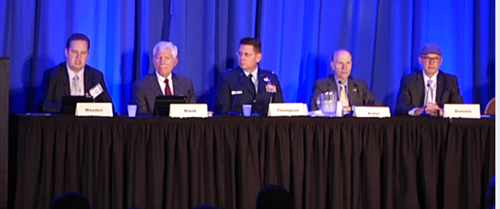 Multiple SWF staff participated in, and contributed to events at, the 2016 AIAA Space Forum , held in Long Beach, CA, from September 13-16, 2016. SWF Executive Director Dr. Michael Simpson, SWF Technical Advisor Brian Weeden, and SWF Program Manager Ian Christensen all participated in the Space Commercialization Executive Summit, a joint event produced by the American Institute of Aeronautics and Astronautics (AIAA) and Aviation Week Network to foster an evolving and growing space economy. The Summit brought together senior executives, influencers, and stakeholders involved in the commercial space sector, including industry, space commerce, R&D, academia and government, to discuss steps that could be taken to advance the commercialization of space.  
Brian Weeden also moderated a panel discussion on Space Traffic Management (STM), which included: Maj. Gen. (Ret) Jim  Armor, Staff Vice President, at Orbital ATK; Mr. Mark Daniels, Vice President, for Engineering and Operations at Intelsat General Corporation and Executive Director for the Space Data Association; Dr. George Nield, Associate Administrator for Commercial Space Transportation at the Federal Aviation Administration; and Maj. Gen. David Thompson, Vice Commander of Air Force Space Command. The panel discussed what is currently being done for space situational awareness (SSA) and STM, the reasons why there is a growing interest to develop a stronger STM regime, and the efforts underway in the United States and internationally to do so.
A video recording of the panel can be found here.
Last updated on September 16, 2016