SWF-State Department Event Highlights Global Nature of Space Weather Challenges
Monday, May 2, 2016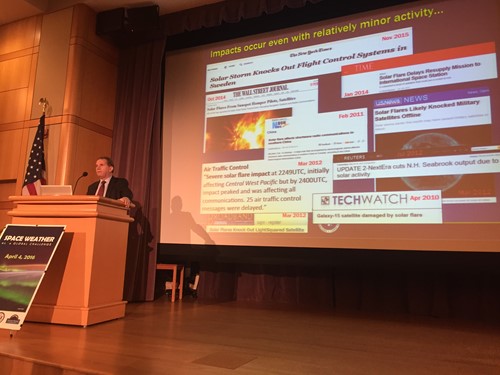 Dr. Bill Murtaugh, Assistant Director for Space Weather at the White House Office of Science and Technology Policy.
On April 4, 2016, SWF and the U.S. Department of State co-hosted an event that brought together top space weather experts to discuss the international aspects of the recently released National Space Weather Strategy and inform policy makers of the potential impacts of space weather on infrastructure and the global economy. The event attracted over 130 participants, representing 30 countries. 
In her opening remarks, SWF Washington Office Director Victoria Samson highlighted the interconnected nature of space weather phenomena and its link to space sustainability. "[Space weather] is less political than other conditions that may affect space stability," she said, "so it is easier to approach from an international perspective, and allows for multilateral efforts that can build up a history of cooperation that can then be enhanced as relationships among space stakeholders evolve." 
Leadership from across the U.S. government - the White House Office of Science and Technology Policy, the Department of State, the Department of Homeland Security, the National Oceanic and Atmospheric Administration, the National Aeronautics and Space Administration, and the U.S. Air Force - described space weather-related programs and efforts to improve coordination and messaging to meet the goals of the strategy. Moderated by SWF Project Manager Laura Delgado López, an international panel with speakers from the United Kingdom Met Office, the European Space Agency, the World Meteorological Organization, the North Atlantic Treaty Organization and the United Nations Committee on the Peaceful Uses of Outer Space, discussed international coordination and cooperation efforts to improve shared understanding of and resilience to space weather events. 
Event materials, including presentation files and background materials, are available on the event page. Videos of the presentations will be made available soon. 


Last updated on May 3, 2016