Highlights from SWF events at the 32nd Space Symposium
Monday, April 25, 2016
As noted in our first Insight piece earlier this month, the Secure World Foundation team geared up for an especially busy Space Symposium. SWF sponsored several activities in this year's conference designed to engage attendees in various space sustainability-related subjects. 
On April 11, 2016, SWF and the Space Foundation hosted the "Americas Roundtable," which engaged 25 participants from industry, academia, civil, and military space sectors. The session was convened by SWF Project Manager Laura Delgado López and Space Foundation Special Advisor for Latin American Affairs R. Dan Jones. Participants offered remarks about activities in Argentina, Brazil, Chile, Guatemala, Mexico, Puerto Rico and Uruguay, as well as insights on the interests of industry and international partners in Sweden, the United Arab Emirates, and the United States in furthering engagement in the region. The group discussed opportunities to engage in a sustained regional dialogue to enhance partnerships among the sectors represented in the roundtable. Materials from the session are available in the event page.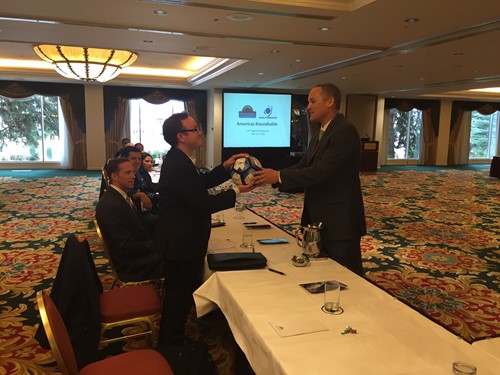 Astrobotic's Dan Hendrickson receives a soccer ball signed by all Americas Roundtable participants from co-chair Dan Jones, as a symbol of continued commitment to cultivated an interconnected, global space community through partnership.
Co-hosted with Harris Corporation on April 13, 2016, the "Space-based Weather Capabilities in the Arctic" session brought together a dozen key stakeholders to discuss the value of improved weather capabilities in the Arctic and assess means for collective action. Moderated by SWF's Laura Delgado López, the discussion was organized around three of the policy priorities in the U.S. Arctic Strategy, and it drew upon a January 2015 discussion hosted by SWF to focus on the role of enhanced space-based weather capabilities for sustainable development of the Arctic and improved understanding of the changing climate in the region. A non-attribution summary of the discussion is forthcoming.
Later that morning, SWF's Laura Delgado López co-moderated the panel on "Building a Space Culture in an Emerging Spacefaring Nation" with Space Foundation's Dan Jones. The session featured Sir Martin Sweeting, founder and executive chairman of Surrey Satellite Technology Ltd. in the United Kingdom, Mr. Johan Bäckström , vice president of sales and marketing at AAC Microtec in Sweden, and Major General Ramses Rueda from the Colombian Air Force. The expert panel answered questions from the moderators and the audience and shared candid remarks and lessons-learned from the experiences of their countries in taking advantage of the opportunities offered by space activities, while addressing challenges to organize and sustain such efforts.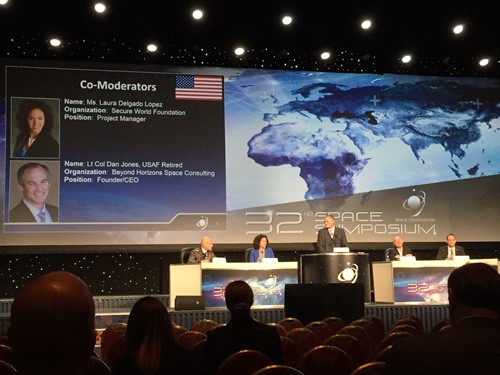 From left, Major General Ramses Rueda, Ms. Laura Delgado López, Lt. Col Dan Jones, Sir Martin Sweeting, and Mr. Johan Bäckström. 
Wrapping up a busy Wednesday, on April 13, 2016, SWF was delighted to co-sponsor the Space Symposium's Reception in Honor of International Guests as part of its work to promote a broad discussion of issues affecting space.
On April 14, 2016, SWF held an invite-only lunch session on the changing perceptions on space security and space protection. The panel, "Space Security: Norms, Resiliency, and Protection," was moderated by SWF Executive Director Michael Simpson and had the following speakers: Mr. Pierre Delsaux, deputy director general at the European Commission Directorate General for the Internal Market, Industry, Entrepreneurship and Small and Medium-sized Enterprises; Mr. Erik Eliasen, vice president at National Security Space Programs; Lt. Col. Mike Hellmann, assistant branch chief of Strategic Planning and Concepts within the German Federal Ministry of Defense; and Lt. General Eduardo Peña Merino, commander of combat operations of the Chilean Air Force. Materials from this session will be posted soon in the SWF event page.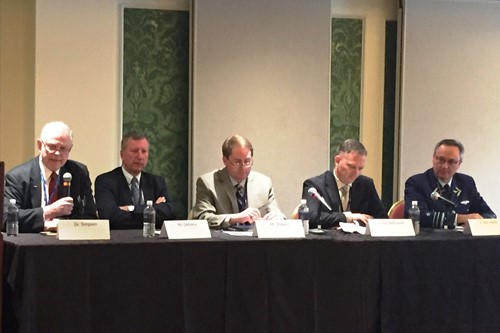 From left, Dr. Michael Simpson, Mr. Pierre Delsaux, Mr. Erik Eliasen, Lt. Col. Mike Hellmann, and Lt. General Eduardo Peña Merino.
Last updated on April 26, 2016