Ray Williamson Future Fund 2015 Award Recipients Announced
Tuesday, December 15, 2015
We would like to congratulate this year's recipients of the Ray Williamson Future Fund Award!
This fund annually supports a small number of scholarship or professional development awards to support students or young professionals with demonstrated commitment to and aptitude for the advancement of the Secure World Foundation's values, goals, and objectives.  It is named for a former Executive Director of the Foundation whose life work has particularly advanced the cause of preparing new generations of leadership for the space sector. This year, SWF is pleased to honor the following individuals by supporting their studies at the International Space University Southern Hemisphere Space Studies Program in Adelaide, Australia: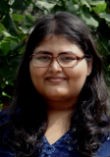 Rashmi Nayar is an Economics graduate with an interest in science and technology. She is currently pursuing her Masters in Public Policy at the National Law School of India University (NLSIU), Bangalore, where she is exploring the link between public policy and technology. Her research interests include the use of Geographic Information Systems (GIS) in areas such as effective forest management and healthcare. She has also undertaken field studies on rural education. Ms. Nayar is currently an intern with the United Nations Development Programme (UNDP), working on its adaptation learning mechanism (ALM) platform for climate change. Her master's thesis is a study on the role of policy in catalyzing technology spin-offs from space research.

King Kumire is a graduate of Bindura University Of Science Education (Zimbabwe), where he received his Bachelor Of Science Honors Degree in Computer Science. His research interests focus on the exploitation of modern day computer technologies (such as robotics) to enhance the exploration of the space. Mr Kumire has a strong background in the teaching of physical, mathematical, life and computational sciences in Zimbabwe and South Africa. Mr Kumire's strong dexterity of computing science has enabled him to currently lead a consulting team which majors in the implementation of enterprise grade systems across Africa.

Pictured here from the left: Former SWF Executive Director Ray Williamson, Rashmi Naydar (India, and King Kumire (South Africa)
Last updated on March 3, 2016