Chris Johnson speaks about Space for Peace at the Israel Arts and Sciences Academy in Jerusalem, Israel
Sunday, October 11, 2015
SWF Project Manager Chris Johnson spoke at the first annual "Space for Peace" Public Outreach Event on October 11, 2015 at the Israel Arts and Sciences Academy, a boarding high school for gifted students in Jerusalem.
The event highlighted using space technology to foster peace and resolve conflict on Earth. Mr. Johnson's remarks to the roughly 100 students in attendance discussed careers in the space industry not just for those in science and other technical disciplines, the role of NGOs in bringing the voice and long-term interests of the people to conversations about space mostly dominated by governments and companies, and the role that individuals can play in using newer and high-technology space assets and applications to bring transparency and to undo tensions and rivalries which might devolve into conflict.
The event also included presentations by two other young professionals, Kyle Acierno of Canada and Juan Gramajo of Guatemala. After the presentations, students asked questions of the panelists including such important queries like the ethics of space exploration, property rights in space, and how to become an Astronaut.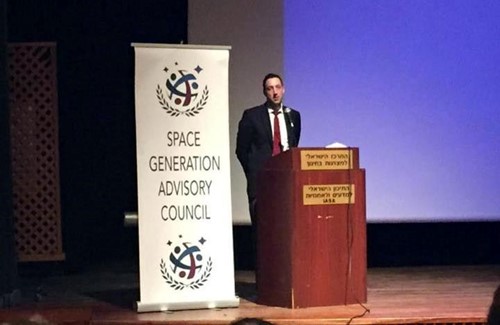 Last updated on August 24, 2017