Brian Weeden Participates in World Economic Forum Brainstorming Session on Global Challenges
Thursday, October 29, 2015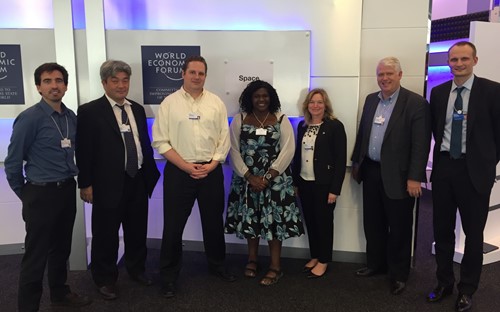 From left to right: Bruno Sanchez Andrade Nuno from the World Bank, Kazuto Suzuki from Hokkaido University, Brian Weeden from SWF, Maggie Aderin-Pocock from University College London, Ellen Stofan from NASA, Rick Ambrose from Lockheed Martin, and Nikolai Khlystov from the WEF.
SWF Technical Advisor Brian Weeden participated in the World Economic Forum's Summit on the Global Agenda 2015 held in Abu Dhabi, United Arab Emirates. from October 25-27, 2015. The annual meeting brought together more than 1,000 global experts from the WEF's Network of Global Agenda Councils to identify the latest trends and risks, explore interconnections among issues and collectively develop solutions to address the most pressing issues shaping our present and future global, industry and regional agendas
Mr. Weeden participated as a member of the Global Agenda Council on Space for the fifth year. The Space Council met to discuss its project to develop a web platform to enhance collaboration for humanitarian response to natural disasters and the ability of responders to utilize satellite imagery and communications. The project is a follow-up to its 2015 report "Bringing Space Down to Earth," which highlighted the role space capabilities can play in addressing global challenges.
Last updated on October 29, 2015