SWF Contributes to Discussions of SSA Policy and Cooperation at 2015 AMOS Conference
Monday, September 28, 2015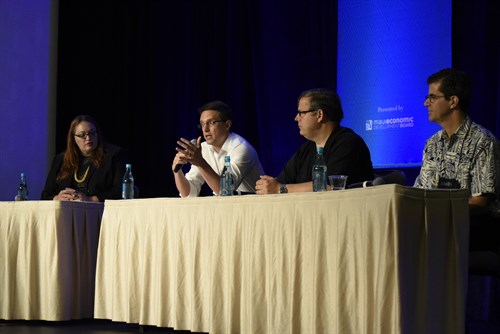 Victoria Samson (left) moderates a panel discussion on using SSA to support norms and resilience
SWF was once again a significant contributor to the 2015 Advanced Maui Optical and Space Surveillance (AMOS) Conference held from September 15-18, 2015. For the fourth year in a row, SWF actively participated in the Policy Forum held that was held at the beginning of each day of the conference. This year, the Policy Forum featured a keynote speaker followed by a panel discussion on a policy topic related to SSA.
On the first day of the conference, Major General Clinton Crosier from U.S. Strategic Command (USSTRATCOM) provided the opening keynote to discuss USSTRATCOM's SSA data sharing efforts. After the keynote, Mr. Cary Chun moderated a panel discussion on "Moving Towards a Combined Space Situational Awareness," featuring Ms. Kay Sears from Intelsat General, Colonel John Giles from the United States Air Force, Lieutenant Colonel John Van der Laan from the Royal Canadian Air Force, Colonel Thomas Spandenberg from the German Air Force, and Lieutenant Colonel Hyeon-seock Jeon from the South Korean Air Force. The panel was followed by a second keynote from Frank Rose, Assistant Secretary of State for Arms Control, Verification, and Compliance, on the role of SSA in current international space security and sustainability initiatives.
The second day of the conference began with a keynote from Mr. John Hill, Principal Director For Space Policy, Office of the Under Secretary of Defense for Policy, on the role of SSA in enhancing mission assurance and resilience. Following the keynote, SWF Washington Office Director Victoria Samson moderated a panel discussion on "SSA For Enhancing Norms of Behavior and Resilience" featuring Mr. Hill, Mr. Eric Desautels from the U.S. Department of State, and Mr. Andrew D'Uva from Providence Access. 
During the afternoon on the second day, SWF partnered with the Maui Economic Development Board to hold the third-annual AMOS Dialogue in Maui, a small, invitation-only workshop to foster dialogue on SSA policy issues. The focus of this year's Dialogue was Space Traffic Management (STM), and specifically to assess current SSA and STM practices, policies, and capabilities, and suggest ways to improve governmental, industry, and international engagement and cooperation to enhance SSA and STM. The 2015 AMOS Dialogue in Maui featured 29 participants from six countries as well as commercial, civil, and military sectors.
On the third day of the conference, Dr. George Nield, Associate Administrator for Commercial Space Transportation at the Federal Aviation Administration, provided a keynote on how the private space sector was changing, and the challenges it creates for SSA and STM. Following the keynote, SWF Technical Advisor Brian Weeden moderated a panel discussion on "SSA Challenges and Opportunities from the Growing Private Sector Presence in Space," featuring Mr. Michael Lindsay from OneWeb, Mr. Stewart Bain from NorStar Space Data, Professor Craig Smith from Electro-Optical Space Systems, and Mr. Paul Welsh from Analytical Graphics, Inc. 
Last updated on September 28, 2015