Report of SWF-Supported Flood Modelling Workshop in Mexico Available
Tuesday, June 30, 2015
Last May, the Secure World Foundation joined a multi-partner effort to support the Working Group on Capacity-Building and Data Democracy (WGCapD) of the Committee on Earth Observation Satellites in a capacity-building workshop on flood modeling celebrated in Mexico. The second of 2015, the Higher Resolution SRTM Data & Flood Modelling Workshop sought to build capacity in understanding and using the highest resolution digital elevtion model available, which is derived from the Shuttle Radar Tography Mission-2 (SRTM-2), in the development of flood models.
The weeklong workshop was hosted by the Centre for Space Science Education for Latin America and the Caribbean (CRECTEALC) in Tonantzintla and Puebla, Mexico, and engaged practitioners from11 countries in the Latin America and Caribbean region. The workshop report describes the background of the effort and includes highlights and participant feedback from the event. More information about the workshop, including a link to the report, is available in the event page.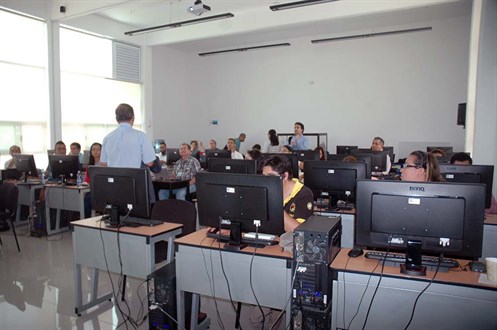 The weeklong workshop included hands-on training, as well as presentations on freely available software, data, and information. 
Last updated on June 30, 2015