SWF Holds Panel Discussion on International Law and Military Activities in Space
Wednesday, March 25, 2015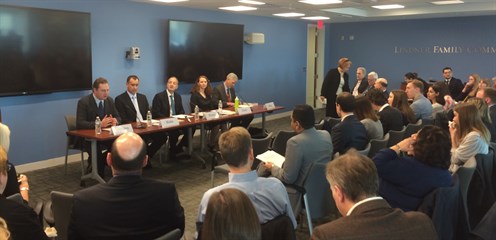 On March 23, 2015, Secure World Foundation held a luncheon panel discussion in Washington, DC, on international law and military activities in space. The event was held on the George Washington University campus at the Elliot School of International Affairs, and in partnership with the Military Law Society at GWU. 
Panelists discussed how international law applies to military activities in both peacetime and conflict, the legal definitions of armed attack and self-defense, and how international law can be used to constrain both technology and behaviors. Panelists explained how international legal experts and practitioners had developed specific manuals on the application of international law to conflicts in the air, maritime, and cyber domains, and how those manuals impacted real-world decisions by military commanders. There was also a discussion of the current status of international law and military activities in space, how a manual for space might help add stability to the space domain, and what the geopolitical challenges were in creating such a manual.
An audio recording of the event can be found here, and more details can be found on the event page. 
Last updated on March 30, 2015