Laura Delgado López Joins AIAA NCS Panel on Careers in Space Policy
Wednesday, January 28, 2015
On January 27, 2015, SWF Project Manager Laura Delgado López joined a panel of young professionals that discussed careers in space policy with university students and others interested in the field. The event was co-hosted by the Young Professionals Committee of the American Institute of Aeronautics and Astronautics (AIAA) Capital Section, together with the George Washington Space Society and the George Washington AIAA Student Chapter.
AIAA Director Dr. Sandy Magnus offered opening remarks and highlighted the importance of professional associations in career development. Dr. Scott Pace, director of the George Washington University's Space Policy Institute, moderated the discussion.
Joining Ms. Delgado Lopez on the panel were Ms. Sirisha Bandla, Commercial Spaceflight Federation, Ms. Amber Charlesworth, U.S. Department of State, Mr. Lewis Groswald, recently with the Senate Commerce Committee, and Mr. Dan Hendrickson, Astrobotic Technology, Inc. The panelists, Dr. Magnus and Dr. Pace, engaged with audience members in a lively discussion about the many career paths available in space policy, the dynamics of the space community, and lessons-learned from their experiences in government, industry, and non-governmental organizations.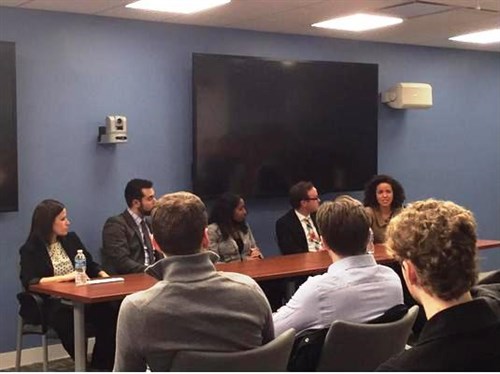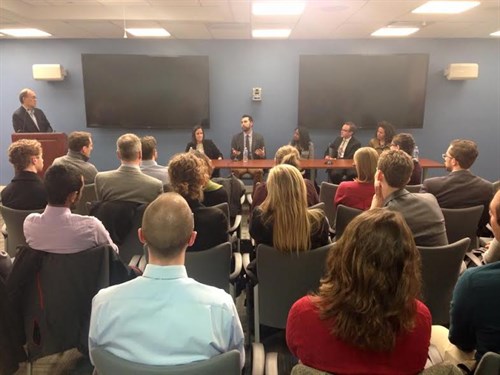 Images from the event. Top image credit: @AIAA NCS. Bottom two images credit: Kate Becker. 
Last updated on January 28, 2015