Report on Asteroid Impact Risk Communication Workshop Now Available
Tuesday, November 11, 2014
In September 2014, Secure World Foundation hosted a two-day workshop on communication about near-Earth object (NEO) hazards and impact mitigation. The workshop was organized at the request and for the benefit of the International Asteroid Warning Network (IAWN), an international group of organizations involved in detecting, tracking, and characterizing NEOs. IAWN was organized in response to a United Nations (UN) recommendation and operates independently of the UN. 
The workshop brought together a diverse group of experts from the NEO science, risk communication, policy, and emergency management communities to provide communication guidance and advice to managers and directors of IAWN member programs and institutions. Prepared for IAWN, the workshop report captures key findings and recommendations derived from the workshop. The report also includes an executive summary and a full list of participants.  
Information about the event, including a link to the workshop report, is available here.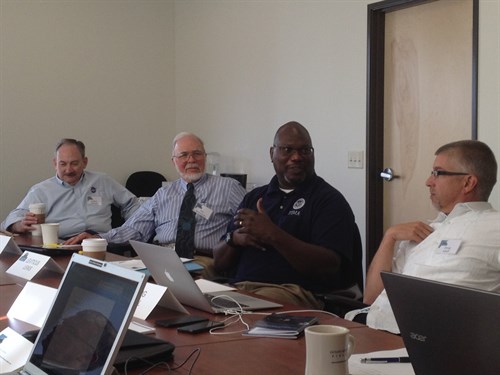 From left: Lindley Johnson (NASA HQ), Ray Williamson (Seven Horizons), Leviticus Lewis (FEMA), and Douglas Isbell (NASA JPL).
Last updated on November 11, 2014