Brian Weeden Discusses Space Security and Sustainability at the Council on Foreign Relations in NYC
Wednesday, October 15, 2014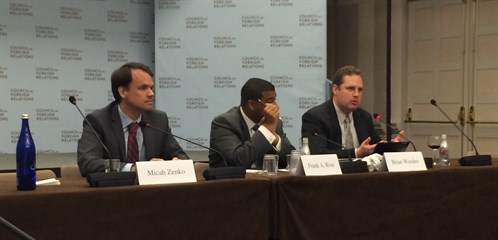 On October 15, 2014, SWF Technical Advisor Brian Weeden spoke at a Council on Foreign Relations (CFR) Roundtable on Promoting Space Security and Sustainability in New York City. Brian was joined by Frank A. Rose,
Deputy Assistant Secretary of State for Space and Defense Policy, Bureau of Arms Control, Verification, and Compliance, U.S. Department of State. The event was organized and moderated by Dr. Micah Zenko, the Douglas Dillon Fellow at CFR's Center for Preventative Action. 
The Roundtable discussed current threats to outer space, the development of counterspace capabilities, the current status of multilateral negotiations and initiatives to promote space security and sustainability, and future challenges in ensuring the long-term stability of the space environment. 
Last updated on October 16, 2014