SWF Actively Contributes to SSA Policy Discussions at the 2014 Maui AMOS Conference
Wednesday, September 17, 2014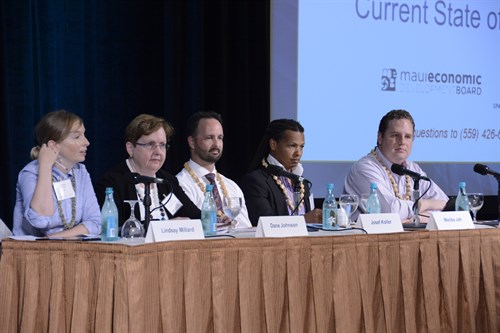 Brian Weeden (on right) participates in a panel discussion on U.S. policy on space situational awareness.
Once again, SWF had a significant presence at the 2014 Advanced Maui Optical and Space Surveillance (AMOS) Conference held from September 9-12, 2014. For the third year in a row, SWF actively participated in the Policy Forum held the day before the technical conference. SWF Technical Advisor Brian Weeden was a speaker on the first panel on U.S. policy on space situational awareness (SSA) and space security, along with Dr. Dana Johnson from the U.S. Department of State, Dr. Josef Koller from the Office of the Deputy Assistant Secretary of Defense for Space Policy, and Dr. Moriba Jah from the Air Force Research Laboratory.
SWF Washington Office Director Victoria Samson moderated the second panel on international perspectives on SSA, featuring LtCol Stephan Huland from the German Air Force, Commander Rayna Owens from the United Kingdom Ministry of Defense, LtCol Damien Gardien from the French Joint Space Command, Prof. Thomas Schildknecht from the University of Bern, and Jang-­Hyun Park from the Korean Astronomy and Space Science Institute. 
On September 11, SWF partnered with the Maui Economic Development Board to hold the second-annual AMOS Dialogue in Maui, a small, invitation-only workshop to foster dialogue on SSA policy issues. Prompted by the growing involvement of the private sector in SSA, the goal of this year's Dialogue was to promote greater collaboration and cooperation between governmental and non-governmental SSA initiatives. The 2014 AMOS Dialogue in Maui involved 25 participants from six countries as well as across commercial, civil, and military sectors.
Last updated on September 17, 2014