Brian Weeden Co-Chairs Session on Non-Technical Challenges of Actively Removing Space Debris
Friday, June 20, 2014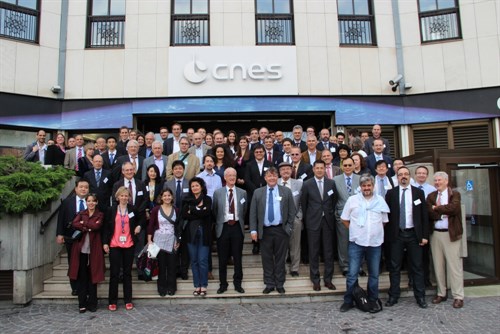 On June 14-18, 2014, the French Space Agency (CNES) hosted the 3rd European Workshop on Space Debris Modelling and Remediation at their Headquarters in Paris, France. The workshop, held every two years since 2010, brought together experts from around the world to discuss how to deal with the long-term growth in space debris. This year's participants hailed from Europe, Russia, the United States, Japan, Korea, and Singapore,
During the workshop, SWF Technical Advisor Brian Weeden co-chaired a panel session on the "Policy, Economic, and Legal Aspects of Orbital Debris Removal" which examined a range of non-technical challenges with removing space debris. Topics included determining the current level of compliance with debris mitigation guidelines, assessing the economic cost posed by space debris and benefit from debris removal, strategies for funding debris removal, and the potential role that export control may play in debris removal activities.
As part of this session, Brian gave a presentation on "How To Ask Permission to Engage With a Piece of Space Debris" that focused on the legal requirement to determine who has jurisdiction and control over a space object and how to go about requesting permission to interact with a specific space object. His talk highlighted the current gap between the number of space objects officially registered by States and the number of objects actually tracked in orbit. He also proposed a draft protocol for how to ask permission when the State of Registry is not clear.

Last updated on June 20, 2014