World Economic Forum Releases New Report on Bringing Space Down to Earth
Sunday, January 26, 2014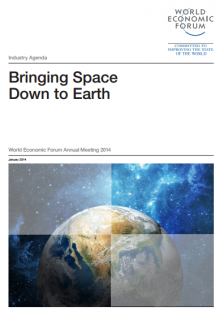 The World Economic Forum's Global Agenda Council on Space Security has published a preview of a new book examining the important role space technology and capabilities play in addressing our most pressing challenges on Earth. The preview provides a snapshot of the role for space in the following areas:
Communications Satellites and the Future Telecoms

Ecosystem

Using Space Technology to Improve Education in

Remote, Rural and Infrastructure-challenged Regions: A

frica, India and Beyond

Space Technology and Human Health

Precision Agriculture and Food Security

Using Space Technologies to Protect Human Rights

on Earth

Climate Change and Space

Space Assets for Arctic Governance

The Sustainable Management of Forests, Fisheries

and Water

Using Space Technologies to Help Disaster

Management

Nuclear Security and Satellites

Building Capacity to Prepare for Catastrophic Risks

from Space
It also provides an overview of some of the key challenges to the long-term sustainability of space activities and the ability to provide these benefits in the future including space debris, radiofrequency interference, and strategic stability in space.
Work on the book began in 2012 under the Council Chairmanship of SWF Technical Advisor Brian Weeden and continued under the current Council Chairmanship of SWF Advisory Committee member Dr. Kazuto Suzuki. Dr. Suzuki highlighted the report during his participation in the 2014 World Economic Forum Annual Meeting in Davos, Switzerland. The Council plans to publish the full chapters on each of the topics over the course of the following year.
A PDF version of the Executive Summary can be downloaded from the WEF website here.
Last updated on January 26, 2014